Bob Bellerue PRESS
Navigate:
contact: bob_AT_halfnormal.com
shortcuts: bio / CV
halfnormal website (Ende Tymes Festival)
Press/Reviews
*****************
Squidco review by Massimo Ricci (2022-02-10)
"Radioactive Desire" (Elevator Bath)
Bob Bellerue (feat. Brandon Lopez / Luke Stewart / Jessica Pavone): Radioactive Desire (Elevator Bath)
Brooklyn's Bob Bellerue is portrayed as a "creative technician" with a no-nonsense approach to equipment, environment and noise for multidisciplinary purposes. His discography comprises thought-provoking outings — among them, 2018's Music Of Liberation on this same imprint — typically investigating charged contexts via unorthodox methods. In the summer of 2020, Bellerue gathered a few collaborators to record some material after months spent without any interplay. The meeting included Jessica Pavone on viola and organ, Brandon Lopez and Luke Stewart on double bass, Gabby Fluke-Mogul on violin and Ed Bear on baritone saxophone. The nominal leader handled electronics and feedback, plus a whole bunch of stuff including (...inhale...) junk metal, cymbals, feedback piano, howling, overdriven room sound and amplified Suling Gambuh.
The first decision to be made is whether to consider this double CD as an accomplished release on a conceptual level, or a mere documentation of solitary and joint performances ("holy racket", by Bellerue's definition) captured on tape subsequent to a period of forced inactivity. If the second hypothesis is the one to follow, then there are grounds to sit down and listen — with a good dose of rational firmness — to six long tracks that invade one's habitat quite violently. We won't allow ourselves to make aesthetic judgments on any of them; least of all on the concluding "Metal Gambuh", where Z'EV-tinged clangors flow into various stages of scathing distortion, and an improvisation by Bellerue on the aforementioned flute gets contaminated by heavy processing. Indeed, feedback and electronic treatment of the instrumental sources play a fundamental role throughout the program. Droning counterpoints and sheer timbral components disintegrate into harsh abstractions, a major problem if reflecting on existence had been planned for the evening. The illusion initially provided by "The Longest Year" — nearly a chamber piece, in certain aspects — is bound to be ripped from the brain pretty quickly.
The flip side of the coin is a thorough dispersal of what is coded, predigested, mystified. By turning up the volume consistently (a risky move if living with a family, or in a block of flats), a recurrent sense of almost desperate catharsis will delineate the work's intrinsic value, well beyond the simple "like/dislike" dualism. The physical phenomenology of these pieces expresses a raw nudity through juxtapositions of strident frequencies and sonic/noisy combinations having little to do with diplomacy. In other words, crystal-clear audio imaging is not at the top of Bellerue's list of interests. He's seemingly determined to impose an acceptable coexistence with the audience at home, warts and all. No conditions, no ifs, ands or buts: this is, take it or leave it, exactly what's on offer. Brutally honest, uncomfortably unadorned, totally unsuitable for those who rehash the "deep listening" formula without really knowing what that means. Ultimately, Radioactive Desire is more likely to be treasured by Merzbow fans than lovers of innocuously drifting reverberations. Be warned, though: time is needed to perceive the core of the matter.
*****************
The Wire Oct 2021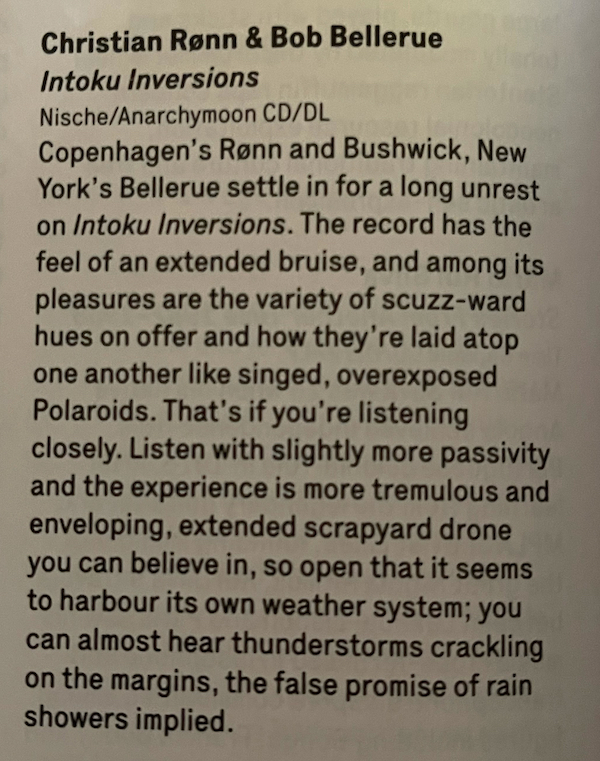 *****************

Night After Night newsletter 9/22/21 link

You probably know Bob Bellerue as the sound engineer who makes everything sound so good at Issue Project Room. You might also know him as the organizing force behind Ende Tymes, New York's most durable noise festival. Those twin qualifications explain how on Radioactive Desire, his new 2-CD album of feedback-saturated improvised chamber music, Bellerue weds roil with repose in works of caustic beauty. His ensemble here includes Laura Ortman, Gabby Fluke-Mogul, and Jessica Pavone, among others. And while you might know that Bellerue will showcase this project at Roulette in November, this is your only chance to hear the god-bothering rrröööaaarrr of Organ Feedback as it's meant to be experienced. All this, plus opening sets by Apologist and Andrea Pensado.

*****************

Squidco newsletter 9/17/21link

A fascinating work for free chamber music in feedback environments devised by sound artist Bob Bellerue and employing the talents of improvisers Brandon Lopez & Luke Stewart (double bass), Jessica Pavone (viola), Gabby Fluke-Mogul (violin) and Ed Bear (baritone sax), Bellerue performing on electronics, unattended instruments, feedback, suling gambuh, junk metal & cymbals.

*****************

Squidco newsletter 9/17/21link

Beautiful long-form drones and harmonic interactions develop and are then shaken up with sonic deformations and collisions, returning to beautiful environments and then reversed once again, from the duo of sonic explorers Bob Bellerue and Christian Ronn, recording in Copenhagen using organs, electronics, winds, and feedback to create these wonderfully alien domains.

*****************

Boomkat product review: Bob Bellerue "Radioactive Desire" link

Brooklyn-based experimental noise holdout Bob Bellerue's latest is a symphony for feedback, enhanced with speakers sitting on metal bowls and drums. Seriously heavy durational drones for fans of Sunn O))), Catherine Christer Hennix, Robert Ashley or Eliane Radigue's Feedback Works.
'Radioactive Desire' is a suite of six durational pieces (the shortest clocks in at a modest 13 minutes, the longest is almost 40) that bask in feedback's lavish, squealing fuzz. The harnessing of feedback has been a constant in experimental music for decades, but Bellerue's approach is novel and well conceived. He's been a key component in the East Coast noise underground for 30 years, and brings this knowledge of all things extreme to his treatment, giving it a surprising level of restraint.
Considering 'Radioactive Desire' is constructed from feedback, there are few moments of complete cacophony. Rather Bellerue appears to want to highlight how feedback allows us to hear spaces through vibrations and tones. His space is set up so that the resonant squeals cause rattles and overtones throughout the room and enhance, or distort, every other element. It's not always easy to listen to, but it's consistently fascinating - the title track alone, the most musical of the six works contorting feedback into an almost orchestral groove, is an essential listen.

*****************

Foxy Digitalis link

Bob Bellerue "Radioactive Desire" by Brad Rose 9/2/21

Everything disintegrates eventually. Whether it sinks back into the soil or eviscerates itself into ephemera, sucked back into the open air, permanence isn't real. Across more than two hours, Bellerue and a crew consisting of some of the foremost artists in the avant garde and free improvisation world ratchet up a bevy of combustible tensions, working feedback to the furthest reaches and surprising depths.
Opener "The Longest Year," the shortest piece at nearly 14 minutes, throws down the gauntlet from the start, lacing everything with stretched out bursts of anxiety. Bellerue's chaotic electronics build on the grinding squall from an ensemble of Luke Stewart, Brandon Lopez, gabby fluke-mogul, Jessica Pavone, and Ed Bear to form a metallic pyramid, reflecting any intentional light away from the crowd and into the void. Pavone and fluke-mogul sway like palm trees in hurricane force winds from Stewart and Lopez, their viola and violin permeated with horror and hollering to get out. With Bellerue guiding the storm, the massive weight of everything collapses on itself into a sonic black hole.
Each arrangement is a buzzsaw through the darkness. "Bass Feedback" screeches with purpose, the dual bass of Lopez and Stewart creating an impenetrable sonic wall. Pavone moves to organ, adding organic drones intertwining with the discordant wail from fluke-mogul and Bellerue. Bear on baritone sax almost gets lost in the mix, but that unmistakable woodwind sounds cuts through at just the right moments, especially later on the title track. The rise and fall throughout "Radioactive Desire" is hypnotic, even finding surprise moments of serenity a few minutes in. Once the fall happens, though, Lopez and Stewart up the hellfire, amassing a dense wash of discordant sound tha devolves into an enthralling machete-fueled duel between Bear and fluke-mogul. It's utterly transfixing and once fluke-mogul drifts out on their own, the world stands still. Nobody shreds a violin like they do and nobody holds my attention more when they go off.
Radioactive Desire is such a dense album and hard to get through in a single setting. That's a strength, though, because Bellerue's compositions give these world class artists room to stretch and offer their own interpretations. That said, when Bellerue ventures off on his own, like the 40-minute "Metal Gambuh," the intensity of focus is enthralling. Across this massive piece, he traverses an entire universe of sound. Resonance scrapes clatter against metallic floors while feedback (of course) lurks in the background. Electronics shake off the rust, spreading parasitic drones across everything in sight. Aural shadows cast redolent greyscale hues through a cracked prism, bouncing around indefinitely until the moment finally ends. This is cathartic music of the highest degree and within the two hour span, Bob Bellerue and crew build an entire world only to smash it to pieces in the process. Fantastic.

*****************

Downtown Music Gallery Friday August 20 2021 newsletter link

BOB BELLERUE with JESSICA PAVONE / BRANDON LOPEZ / LUKE STEWART / GABBY FLUKE-MOGUL / ED BEAR - Radioactive Desire (Elevator Bath 058; USA) Featuring Featuring Jessica Pavone on viola, gabby fluke-mogul on violin, Ed Bear on baritone sax, Brandon Lopez & Luke Stewart on basses and Bob Bellerue - feedback, other sonic manipulation, junk metal & amplified suling gambuh (low end bamboo flutes). No matter how long I've been actively searching out all sorts of Downtown/tristate musicians & artists, I keep meeting those that were beneath my radar until someone pointed them out to me. Bob Bellerue is a noise guru/sonic manipulator and has done sound for several venues/situations like the Issue Project Room. I caught Mr. Bellerue at a Zev memorial concert at the Kitchen a few years ago and have been seeing his releases popping up here and there. I was rather surprised to see that Bellerue has some 20 releases out and has been an active member of the Downtown Network since the millenium happened. I do recognize the other members of this ensemble from a variety of previous collaborations. You no doubt know about bassists Brandon Lopez & Luke Stewart since both keep pretty been playing with many different ensembles. Gabby Fluke-Mogul was a great solo CD on Relative Pitch which came out earlier this year and Ed Bear has played with local legends Talibam! in the past.
The ensemble were given some handwritten list poems to provide some direction/inspiration to work with. There are some six long pieces found on this two CD set. The opening piece, "The Longest Year", referring to what was/still is for many of us our long, lonely collective year of being forced inside. Both strings/basses are slowly wheezing together, churning waves washing over us with an uneasy, somewhat disorienting vibe. There are several layers of bent notes seesawing together, rather like sitting on a raft in the middle of a lake, drifting, balancing, surrounded by quicksand. This symphony of bent strings is powerful, somewhat intoxicating, perhaps a bit scary at times. On each piece, Mr. Bellerue takes one or two instruments and places them on a bed of feedback (drones), slowly adding another layer, expanding, contracting and carefully manipulating the varied layers. This music was recorded in an empty church so there is a deep (room) resonance going on throughout. On each piece Bellerue alters the feedback/drone in different ways so that we feel the shifting vibrations and their effect on our consciousness. Similar in way to those dark/metal ambient bands like SunnO)))))) or Earth, the cosmic drone keeps shifting, pushing us into a warm sea of solemn slow moving waves or currents. What was once done by symphonic strings or low end brass, can be done by shifting waves of feedback, drones, samples or other amplified acoustic instruments. As the third piece, "Organ Feedback" unfolds, I kept thinking that a procession of chanting monks with frankincense were walking down the aisle at the church in a most ceremonious way. On "Empty Feedback", Bellerue takes several layers of feedback, bending them & twisting them cautiously, the vibe is even more disorienting than earlier, like hearing a dentist drill from the waiting rooms and realizing that you are next in line. - Bruce Lee Gallanter, DMG


BOB BELLERUE and CHRISTIAN RØNN - Intoku Inverstions (Nische/Anarchymoon; USA) Across the three immersive pieces on Bob Bellerue and Christian Rønn's new duo disc, both musicians demonstrate an expansive tonal range and an intimate understanding of the implications of their vocabularies. As always, Bellerue claims his virtuosity with feedback manipulation towards a hybrid definition of tonal conterpoint with Rønn. Rønn's synthesizer voicing and decidedly pitched components are framed perfectly within Bellerue's undulating sound walls which at times crystallize to reveal almost string-like wisps of melodic fragments. Likewise, Rønn's palette shows a proclivity to dissolve into pixelated fragments, weaving a dramatic tension in luminous technicolor. These pieces get progressively longer as the record goes on, but feel somehow equal in magnitude, depth, and oddly in length, as if the methodical approach these two employ simply stretches to fit differently sized frames. This is a fourth world drone portrait with a pigmentation from the outer limits of visibility, to be observed at any sized interval, again and again. - Frank Meadows, DMG

*****************

Brainwashed link

Bob Bellerue, "Radioactive Desire"
Saturday, 21 August 2021 by Creaig Dunton
Described as "free chamber music in feedback environments," this massive double CD from New York based artist Bob Bellerue is a perfect blend of structure, improvisation, and chance. Based around rough compositional structures, but left wide open to improvisation, the five instrumentalists, along with Bellerue helming electronics and production, create a massive noise that distinctly reflects the time, place, and conditions in which this material was recorded.
Recording in two sessions on July 29 and 30 of 2020 at the First Unitarian Congregational Society of Brooklyn, the physical space in which the performance occurred works like another piece of the ensemble. The players, including saxophonist Ed Bear, double bassists Brandon Lopez and Luke Stewart, violinist Gabby Fluke-ogul, and viola/organist Jessica Pavone all appear together on three of the six pieces (two of them are Bellerue solo, and one features just him and Pavone on organ), but even in these three works, it is often hard to discern specific players.
The expansive, bleak "The Longest Year" does have some identifiable buzzing strings from Fluke-Mogul and Pavone, but the space and production give it an unnatural, otherworldly color to the sound. The scraping and grinding sounds build into dense clusters not unlike some of Hermann Nitsch's early scores. "Bass Feedback" is, unsurprisingly, bass heavy, but also has some painfully shrill sections as well. Instrumentation is obvious at times, but the focus is on the abstract tones. The title piece shifts from harsh, distorted sax to scraped strings and a nasal insect buzz, later bouncing between horror film strings and dense noise walls.
"Organ Feedback," featuring just Bellerue and Pavone, is the closest to melody that Radioactive Desire gets. At times almost synth-like, the layered tones blend together beautifully through the rather steady overall dynamic. On the other hand, Bellerue's two solo pieces are far closer to harsh noise than anything else. "Empty Feedback," which is just room noise and unattended instruments, builds from hissy buzzes to machinery like hums to painfully shrill feedback. Everything from stabbing high frequencies to dense steady walls of sound appear. The near 40-minute conclusion "Metal Gambuh" is just that: a suling gambuh flute, metal, and feedback. Bathed in heavy natural reverb, it is a violent outburst of frustration, with oppressive sub bass underscoring the fuzzy crackles and droning noise.
Radioactive Desire is by its very nature an intense work. Recorded in a massive space, in oppressive summer temperatures after a long stretch of lockdown, and spreading out over two hours, there is a lot to absorb. With Bellerue leading the five performers in their improvisation, the intensity of this work is not just in the composition, but in the performance, as well as the space in which it was recorded. Everything is huge, but with such nuance that it never becomes too much to take in, with Bellerue's guiding hand beautifully guiding the material through all its disparate facets.


*****************

Lost In A Sea Of Sound link

Bob Bellerue - Radioactive Desire
August 22, 2021
We dig into the earth with well designed machines powered by tremendous might. We dig into minds with sonic frequencies wavering to the conscious construct of energy creating them. Both terrestrial excavation and aural infiltration are not explosions moving massive amounts of earth or thoughts, they are finitely precise. Like an archeologist, Bob Bellerue patiently removes the sediment our minds collect. A lattice work of metal strings hovering above a newly awakened state. A droning pool of energy hums below, pulling at dream that will eventually find us.
Radioactive Desire is massive intensity delivered in a mammoth composition. A sonic landscape filled in extremes, from classical strings of the violin to industrial creations of unknown origin. From the dense presence of the opening selection "The Longest Year", Bob Bellerue warms the mind with a symphonic tune up. Many of the sounds to follow coming together for a first conditioning of the mind. Our thresholds are limbered up and prepared for "Base Feedback". This is a frequency onslaught manifested at bearable levels, but just barely. Like undetected radiation, these sounds warm and mutate thoughts while instilling a slightly uneasy feeling. The next two tracks "Organ Feedback" and "Empty Feedback" cycle more in the empty world of the ocean surface. Sun blazed and windless moments causing the world to burn under droning heavy molecules. "Empty Feedback" slowly forcing things to move, wave after wave of surging frequencies ending any preceding doldrums. Radioactive Desire is the most melodic selection of the composition. Bob Bellerue using what sounds like Native American wind instruments to coax the mind into peyote fueled hallucinations, arriving about halfway through the trip. A beautiful piece helping thoughts find new connections and then new ideas. The last track is the longest and wildest. "Metal Gambuh", like metal gumbo, shattering the structured imagination. A forty minute traverse into images the mind can barely fathom. We hear these sounds in dreams that stay with us as we wake.
Released on the Elevator Bath label in an edition of three hundred. This composition just began physical sales on August 20th and is available on it's own or with Elevator Bath shirts in either short or long sleeves. There is also an option to purchase in a bundle with the Intoku Inversions compact disc featuring Christian Rønn & Bob Bellerue. The musicians included on many of the selections for Radioactive Desire are Brandon Lopez & Luke Stewart using double bass, Jessica Pavone with organ, Gabby Fluke-Mogul using violin, Ed Bear with baritone sax and of course Bob Bellerue behind everything including electronics.


*****************

Vital Weekly 1295 http://www.vitalweekly.net/1295.html

BOB BELLERUE - RADIOACTIVE DESIRE (2CD by Elevator Bath)
Here we have more music by Bob Bellerue, following last week's collaboration with Christian Rønn. Bellerue is a percussion player playing Suling Gambuh (a Balinese flute), metal, percussion, electronics and feedback. Of the six pieces on this double CD, there are two solo pieces, and the other four in collaboration with others; one is with Jessica Pavone (organ), and the remaining three also include a larger ensemble of Brandon Lopez (double bass), Luke Stewart (double bass), Gabby Fluke-Mogul (violin), Ed Bear (baritone sax) and Bellerue in various roles in these pieces, with only his solo 'Metal Gambuh' playing them all. The recordings were made in July last year over two days at the First Unitarian Church of Brooklyn-Heights, with all these people playing together and with additional mixing later on, which included, "re-amping recordings (pumping sound into speakers on timpani, snare drums, and metal objects)". Here at Vital Weekly, we receive more and more improvised music, and it's not always easy to find a reviewer for such music, unless, of course, one is enthusiastic about it. That is the case with these discs here. Sure, this is improvised music, but it is also something else. The element of drone, for instance, is something not to be missed here, but also the factor of noise is of importance. The amplification of instruments, as well as the role of feedback, makes these pieces massive blasts. Overtones, generated acoustically, start a new life in this space and with this amplification. And so, yes, this is improvised music, but then of a variety, I dig a lot. The music is intense on every level, and there is a great underlying tension in these pieces, a mysterious force if you will. At times, I was reminded of Organum in his heaviest phase (not the recent electronic version) or Phill Niblock, but then in a more improvised manner., as it is not always about drones and standing waves, but also about shorter, broken sounds; perhaps such as the ones, we would expect from improvised music. Also, the Zeitkratzer Ensemble should be mentioned (and perhaps that also says something about my frame of reference here?); I hope you get my drift here. It is a long ride, over two hours of music, and maybe not something to be enjoyed in one long take. It is too massive for that, I think, but the power remains unbroken when served in smaller doses. (FdW)

*****************

Dispatches from the Underground // August 6, 2021 https://ihrtn.net/dispatches-from-the-underground-august-6/

Out on August 20 via Elevator Bath > Radioactive Desire by Bob Bellerue / Intense, cathartic, and amazing / The physical copy is also beautiful to behold (h/t Andrew Anderson)

*****************

Bob Bellerue / Radioactive Desire 2xCD

https://www.instagram.com/p/CR-nvv7g0fW/?utm_source=ig_web_copy_link

I've been putting playing this set off for a couple of days… not sure that I was ready for the minimal-drone-noise-chaos this ensemble brings to life. First disc leans towards the auster and quiet, while the second one is a full on assault on the senses. A world of beauty soaked in macabre and dripping in sense of fear and the unknown. Comes with the highest recommendation!

*****************

Vital Weekly 1294 http://www.vitalweekly.net/1294.html

CHRISTIAN RONN & BOB BELLERUE - INTOKU INVERSIONS (CD by Nische/Anarchymoon Recordings) If you are looking for an album that is dynamic and full of movement, 'Intoku Inversions' might not be for you. The opening drone of 'Intoku Inversions 1' is pretty much what to expect for the whole album. Don't get me wrong, It's pretty great. Everything has a wonderfully elongated vibe to it. The notes just sustain and sustain. The shimmering tones underneath feel luminescent and the throbbing bass could be devastating if played on the right sound system, but variety, there is little.
This isn't necessarily a bad thing. Too often, musicians rush to get to what they perceive to be the 'good stuff'. However, they sometimes miss the point. The point isn't the 'good stuff' but how you get there. 'Intoku Inversions' is effectively build up. Yes, there are 'peaks'. You could claim that around the halfway point on 'Intoku Inversions 1' is that Ronn and Bellerue have been getting too, and after that, it's a nine-minute outro. Or you could say that after eight minutes of consent drone, Ronn and Bellerue have had enough of this and want to try something different. Either way, you end up at the same point. The glorious drone has ended. It is replaced with the sound of feedback, scratchy metal and audio detritus. There is something playful in this section that was absent from the beginning. They are experimenting a bit more. Showing their curiosity at combining contrasting sounds and motifs. 'Intoku Inversions 2' starts like the opener, but there is more movement of sound. The drones feel like they have a purpose. It isn't an exercise in seeing how long something can last before they need to change it. This is partly because the feedback is more prominent. It is used like an instrument, rather than an afterthought, as it was on the opening track. It is both rich and lithe and is the backbone of the track.
This is not the album to play if you are in a rush to do something. It won't work. You'll get frustrated either at our lack of time or the music inability to get to the point quickly. Instead, the album is better suited for when you have time on your hands. This way you can get lost in the drones.

*****************

Diario del AltoAragón — Martes, 2 de junio de 2020 PDF

Another surprise of this edition was the magnetic set of the New York experimental artist Bob Bellerue, with a very long career in the field of noise, who works with concepts such as resonance and dissonance.

*****************

Marcia Bassett & Bob Bellerue "Endless Parabolas" (Humanhood Recordings)

Magnet Magazine - Best of 2019

http://magnetmagazine.com/2019/12/18/best-of-2019-noise/

*****************

Bandcamp Daily: The Best Experimental Music on Bandcamp: October 2019

https://daily.bandcamp.com/best-experimental/the-best-experimental-music-on-bandcamp-october-2019

Two veterans of noise, drone, and other fine experimental avenues come together for over 45 minutes of dense, constantly-moving dissonance. Endless Parabolas offers two side-long pieces, both lasting over 20 minutes, and both traveling far distances without ever jumping around. There are subdued moments spread around Bassett and Bellerue's activity, but the main attraction here is the more aggressive, harrowing stuff—the kind of sheer, drowning din that's easy to get lost in. There's a bit of a black metal tint to these onslaughts, as if the pair have drilled to the core of extreme music and struck a vein. But ultimately, Endless Parabolas floats free of stylistic constriction, more reflective of the unique visions these two have brought to all their devout work.

*****************

Charmed Piano - Brooklyn Rail

https://brooklynrail.org/2019/07/music/Highly-Selective-Listings-jul-19

July 28: Bob Bellerue with Jessica Pavone, Ed Bear, and more plus Loren Connors & Suzanne Langille Duo and Marcia Bassett & Samara Lubelski Duo at First Unitarian Congregational Society. Experimental music lifer Bob Bellerue has pioneered the noise music landscape as mastermind behind the annual Ende Tymes festival. For this performance, Bellerue is premiering a piece titled The Charmed Piano. He explains it as "a stab at an ensemble work, which is under development but currently planned for amplified piano + voice + viola + baritone sax + ?". Bellerue will be joined by Jessica Pavone and Ed Bear, amongst other musicians, for the first in an occasional series of concerts to take place in the First Unitarian's little chapel. With Loren Connors & Suzanne Langille and Marcia Bassett & Samara Lubelski duos.

*****************

Ende Tymes X

The Wire (June 2019)
Bob Bellerue "Music Of Liberation" 2xLP (Elevator Bath)
The Wire (Nov 2018)
Big Takeover image
Bob Bellerue Music of Liberation 2x12" - For nearly two decades, Ende Tymes Festival curator Bellerue has assaulted ears with his signature blend of noise, feedback, and drone. Liberation finds him in an ambient mood with overdrive icy tones building on each other like Brian Eno pumped through a Marshall stack turned up to 11, with clanging metal recalling the brilliant Sonambient records of Harry Bertoia. Emotionally, these four sprawling soundscapes conjure a desolate loneliness, part shadowy urban noir and part post-nuclear wasteland. Think cyberpunk meets A Boy and His Dog and you'll have an idea of the vast expanse of these massive constructions. (Chuck Foster)
Noisy Bandcamp End of 2018 Round Up!
Bob Bellerue Music of Liberation –Take that title seriously. Slabs of heaven-bound yowl that reach levels of such ecstatic stasis that it ought to include a warning to not listen while operating a vehicle. A varied, detailed, impeccably produced album of epic scale and black-hole-level gravitational oomph.
Textura Nov 2018
http://textura.org/archives/b/bellerue_musicliberation.htm?fbclid=IwAR3Oc84BABZIblyKUC1xrEXDStX4jwIrWF1ZgtPsbtACrUPI2jPCVYL51-8
Brooklyn-based Bob Bellerue is described as a noise composer and experimental musician, but don't let that scare you away. Issued on Elevator Bath in a 250-copy edition, his latest opus, the double-LP Music of Liberation, is neither cranium-shattering nor eardrum-piercing. Instead, it's a four-sided foray into methodical, slow-burning sound design that even includes a (gasp) melody or two. Rather than bludgeon the listener with a volcanic, high-voltage assault, Bellerue shapes myriad sounds into intense, vivid soundscapes marked by timbral contrasts and attention to detail.
Music of Liberation is presented as four side-long parts ranging from sixteen to twenty minutes at a time. Bellerue recorded the base material on April 3, 2016 during a session at Portugal's Sonoscopia that saw him merging feedback drones with a host of instruments and sound sources—bass, shruti box, gong, harmonica, guitar pedals, contact mic, voice, supercollider, nova drone, mixer, and guitar and bass amps—after which depth, resonance, and dimension were added to the mono source recording at Bellerue's place of employment, Issue Project Room.
With elements common to all four, each side offers a variation on a theme. A natural scene-setter, side one presents material that's by turns droning, garrulous, wobbly, writhing, and roaring, the sheet metal-like mass in places suggesting the amplified belch of an overhead plane or a bass guitar positioned next to an amp and feeding back for minutes at a time. Part two rolls in with a wavering, saxophone-like smear, its form suddenly turning eastward when the gleaming harmonics of the shruti box enter; chords splinter into tonal tendrils that follow their own undulating paths, the droning whole sounding somewhat like a harmonium playing itself and adhering to no formal rules of harmony or structural design. Six minutes in, the sound field briefly retreats into near-silence, the pause portending the upsurge to come. At this stage, the gritty metallic timbres of the first side reemerge, now as a grinding, potentially eruptive force that rises to the level of a razor-sharp screech without veering off the rails—controlled convulsions, as it were.
The third side enters like a dissonant hall of mirrors, each sharp-pitched noise bleeding into another until the whole takes on the character of a junk percussion improv performed by multiple musicians; the closing minutes are marked by a no-holds-barred plunge into guttural feedback and strangulated wail, one of the few times Music of Liberation clothes itself in full noise garb. The final side begins with a softly shimmering, electrical organ-like drone acting as an undercurrent for feedback smears until giving violent birth to some screeching industrial monstrosity.
Interestingly, the impression generally created isn't of Bellerue coaxing sounds from instruments and equipment; instead, Music of Liberation often plays like an audio document of a machine that, in the moments immediately following the onset of consciousness, is attempting to articulate a desperate desire for release through raw externalized expression.
Brainwashed http://brainwashed.com/index.php?option=com_content&view=article&id=11774:bob-bellerue-qmusic-of-liberationq&catid=13:albums-and-singles&Itemid=133
In four lengthy segments, each inhabiting its own side of vinyl, Brooklyn based Bob Bellerue presents a record that draws from his multitude of styles, from carefully constructed drones and outbursts of harsh noise, to less traveled territories, such as subtle melodies. Combined with experimental strategies learned from Bellerue's work as a sound technician and Music of Liberation becomes a fascinating work in the canon of experimental sound and music, exceptional from both its composition as well as the production.
The material that comprises this set was all recorded on a single day in Portugal, utilizing a combination of the expected (pedals, contact mic, amps) and less expected (shruti box, harmonica), but most of this is utilized in ways that render them almost unidentifiable in the swirling mass of sound. Beyond this, Bellerue re-recorded the material using the natural ambience of the Issue Project Room in Brooklyn to give an added sense of space and architectural depth to the already complex sound.
This album was in progress when legendary artist Z'EV passed and, as a friend and collaborator, Bellerue dedicated this work to him. This influence is clearly on display in the third segment of the album. Amidst an industrial metallic grind and wall of shrill feedback, rattling gongs and pounding metal is apparent, seemingly a direct nod to Z'EV's work. This chugging, rhythmic metal sound eventually dissipates to a wall of distortion and electronics: a purely vintage harsh noise sound that, also, is a fitting tribute to Bellerue's late friend.
There are precious few other moments where the instrumentation is obvious. In the opening bits of the first segment, what sounds like a bass guitar can be heard, generating a wobbling, distorted passage, but it is soon subsumed in a wall of harsh, buzzing crunch. Eventually the entirety of the piece is shaped into a churning mass of noise, the structure and dynamics continuing to shift and evolve until it takes on the sound of slowly bobbing waves. The fourth side of the set features another similar pairing of grinding harshness with distorted, yet shimmering tones. Imbued with a sense of menacing, subdued aggression, the buzzsaw noise and almost melodic droning passages swell and retreat, bouncing between chaos and order making for an exceptional mix.
The second piece takes the mood from malignant to mournful but keeps things just as complex. Buzzing layers are punctuated with piercing, sharp ones, not unlike the feedback equivalent of the Psycho soundtrack. A mix of meandering and stabbing noises continues throughout as Bellerue builds the piece up, and then strips it back down. The sadness that pervades the piece never relents though; eventually evolving into a slowly shambling dynamic that goes into a massive wall of sub-bass before concluding in empty, hollow dimensions.
The melodicism may be subtle, but it is a sensibility that pervades most of Music of Liberation. It is there, but nicely couched in spiky shards of electronics, and further obscured with Bob Bellerue's production wizardry. It is that subtlety, enmeshed in a detailed and nuanced world of distorted chaos, which gives this album an excellent sense of depth and complexity. The multitude of not just sounds, but also moods that Bellerue is able to convey within this abstract framework is a testament not only to his brilliance as a technician, but also as a composer. (Creaig Dunton)
Lost In A Sea Of Sound https://lostseasound.blogspot.com/2018/10/bob-bellerue-music-of-liberation.html
Bob Bellerue works in the sonic fields harvesting sustained notes and patterns. Over the years, bounty and scarcity are intertwined. Weathering emotions reveal themselves in aural bliss or upheaval. The new double lp titled Music of Liberation, follows these patterns. The facets continually changing, from a meditative mantra in form of timeworn drone to post industrial noise, pounding beats dissolved long ago. To describe Music of Liberation as monumental would be inaccurate in relation to Bob Bellerue's vast body of work. An artists delivers sounds in contrast to talent, experience and emotions within the current frame of time. Like the agriculturist, the resulting yield changes over years, each cycle perched on a myriad of uncontrollable factors.
Music of Liberation is dedicated to Bob Bellerue's friend and colleague Z'EV. His passing occurred near the end of the completion of this composition. These sounds were recorded before Z'EVs departure from mortal constraints, but clearly the fabric of synchronicity is woven within these tracks. Vast emptiness filled with volatile outburst, all amazingly subdued under spiritual sagacity. Four record sides, four single tracks, one on each side, every moment a conduit for conscious connection between inner self and the unexplored spaces beyond.
This lengthy composition opens with sheer sonic weight. Gravitational forces in line with cosmic bodies rather than planetary objects. Feedback created from the pressure of time and proximity, a massive psi-wave for planetary dispersal. Is this the echo man has created returning from it's future, or some rouge planetary consciousness dispersed from a distant super nova? In either case, a sound wave tsunami. All will need to establish higher ground in order to ride out it's intensity.
Moving past the cacophony of the first side, this twenty minute piece is the most straight forward. Electronic drone like beginnings revealing the softest touch of serenity, maintained on the sonic path for as long as possible. At some point this sustain deliquesces and a much darker side is imparted. Refreshingly these sounds tilt towards ambient introspection, but are meticulously held in check. The slow motion pace allowing details to really be heard and taken in, communicating how skilled Bob Bellerue is.
Hauntingly spiritual, the third side touches on man's implied border between the physical and ethereal worlds. Almost ritualistic, possessing every so slightly a Gamelan quality, Bob Bellerue allows these two planes to touch. A resonance of timeless ambiance, fueled by souls who have past. Maybe a process of channeling this collective emotion or some method of physical conductivity from a unseen realm, in either condition, the listener is both entranced and disturbed.
Although there is a solemn quality to this entire composition the last side forms this shape more so than preceding tracks. Void of sonic disturbances until the end, these sustained sounds drone with a modicum of fever and preciseness. Like listening to some distant transference of massive energy, fluctuations have been suppressed because sound waves have traveled through the atmosphere. The explosive quality ate the end, relevant to the cascade of all cosmic events.
Released in an edition of two hundred and fifty on the Elevator Bath label from Austin, Texas. This is a double heavy weight pressed black vinyl album, with beautiful colored jackets and poly lined inner record sleeves. The physical qualities match the recording caliber, with mastering for vinyl by James Plotkin. With the above synopsis of the physical aspects for this recording in place, the noteworthy hallmark to remember, this is an Elevator Bath release. From all previous releases to those still to come, Music of Liberation upholds the radiant thresholds the label makes home in.
ToneShift https://toneshift.net/2018/09/20/music-of-liberation-by-bob-bellerue/
The double album set, Music of Liberation (edition of 250), was recorded in Portugal in 2016 and is dedicated to Bellerue's friend and collaborator, Z'EV, who passed away during the final process of making the recording. Toneshift.net also acknowledges the incredible work of Stefan Joel Weisser (aka Z'EV; 1951-2017) with countless listening hours over the years and ongoing. The albums are broken into four long tracks, one per side, these are simply numbered 1 through 4.
The opening is a warbling, sparse meandering drone that swirls about like a small hive. Modulated screetchy feedback enters in and is subtly coaxed to balance its truth within the overall sound sculpt. Bellerue is an intense player who often has quite a bit of fun on stage, but here he's at his most somber and intense. The higher tones begin to deteriorate as if being sifted into a fine dust, leaving other stones yet to be unturned. It sounds like a tiny crackle, like that of fireworks searing just below the mid-height wall of white noise. Growing feedback continues looming large, part one is a celebration of making a goddamn good industrial racket with a whole lotta reverb and a pool of sweat in its wake.
Part two opens with a more open tone buzzing peculiarly in mid-air shapes. What becomes a melody? Though he's likely using pedals and knobs this comes off like a futuristic phaser-style organ that seems to relish its own reflection so much that it's losing itself in the infinity pool. The sound wavers like a harmonica filtered through a windscreen, it's got an anxious sensibility – for the times? Likely. A sudden fade into near silence is disconcerting, but not for long as the drone juts its head above the fray. Bellerue's style has shifted into long-form acoustic storytelling. Though the story is set in an alternate universe where flying and falling are in constant flux. In other words, it's a trip. When he adds a deep bass bellows you feel it, and it's oddly a respite amid the higher shards being served. He's gone low, and it just revs like a dubby, motorized small jet airliner. This is one really heavy (meaning weighty) record. It all ends in a foggy, murky mix of layers, exxxxhhhaaauuusssttt!
As we move to part three something emerges that feels more like he's in a tribal village of sorts, though it's hosting more abstract frequencies. It's a more curious of the sides thusfar, especially with the additional prepared and manipulated cymbal. There's a sweet slowness here. A post-industrial glimpse into an inordinately shifting social axis and the fates it allows. This is the artist's passion play where mysterious percussion, within an atonal structure makes for a fiery fusion. It goes from a troglodyte blur to a fine purr in seconds and uses wisely the convex and concave nature of the void. It's a subtle achievement in structuring noise with a dense presence.
On the flipside, the final of four, the wide blitz wall has its cracks and chips, it's battered and yet the various emissions create a healing wash of more rounded chords. This is a very 'post' sound, as if we've arrived after the sonic n' gritty action has occurred and we are left with fallout, detritus, and other random, blurry particles that cavort in deep reverb and other sound effects. These begin to permeate into a singular strand of drone with minimal tonal shifts from the dead center. The hum changes over time from the dazzle of industrial to unearthing the unconscious sound of ferment. Though the range throughout is voluminous and unpredictable, Bellerue always maintains a certain level of restraint, even in the harshest, disquieting passages. Liberating! (TJ Norris)
Vital Weekly http://www.vitalweekly.net/1148.html

Over the years the name Bob Bellerue was more visible in the announcement section of Vital
Weekly, then in the reviews. Only a solo 7" and a cassette by Kilt were reviewed, but both some
time ago (Vital Weekly 616 and 892), so this double LP can make up for some serious gap in my
knowledge. On his Bandcamp page, Bellerue calls himself "a noise composer, experimental
musician, and creative technician based in Brooklyn NY", but without mentioning any specific
instrument. The cover here however surely mentions some specific things. This record was
recorded on 3 April 2016 at Sonoscopia in Porto (Portugal), using bass, shruti box, gong,
harmonica, voice, supercollider, nova drone, guitar pedals, contact mic, microphone, mixer,
guitar and and bass amp and I assume he doesn't play it all at once. In these sessions he was
working with drone feedback and these instruments and later on played them at the "old marble
and plaster cavern of Issue Project Room in Brooklyn, to harness the resonant acoustics". This is
a record of some powerful drone music, cracking under a heavy weight. Bellerue plays these
instruments not at the same time, even when on various occasions they sound together. Everything
seems to be dealing with moving around objects, microphones and amplifiers, generating a fair
amount of feedback like proportions, all with a tendency for some loving distortion. This is noise,
indeed, but not some mind dumbing orgy of feedback; it is more like a careful examination of
space and the way sound moves around in this space. This results mostly in dark, massive yet
atmospheric pieces of music, but in the opening of the third side also with some piercing, high-end
cymbal exploration. None of the pieces has a title and they aren't sidelong observations. Some
sides seem to have been split in a few pieces, sometimes merging slowly into each other. This is
quite a varied record, with Bellerue exploring every possibility the material seems to be offering
here, which makes the range quite far. From the Shruti drones to distorted drone, open cymbal
playing and what seems to be a saxophone on the first side (which it surely isn't), it is all very
delightful to hear, although given the somewhat louder nature of this, one could consider to take
their time in delving into this. But for the more daring listener this might very well the aural
challenge needed. An all-ear cleansing exercises if you will. Play loud, but I assume you got
that already. (FdW)
––– Address: https://elevatorbath.bandcamp.com/merch
Touching Extremes https://touchingextremes.wordpress.com/2018/08/08/bob-bellerue-music-of-liberation/
I'm frequently tantalized by the conceptual possibilities behind a record's title, particularly in absence of a direct interpretation to lessen our unawareness in that regard. Then again, "liberation" is a notion whose urgency is gradually being overlooked in spite of its numerous historical and emotional ramifications. I like to fantasize about Bob Bellerue choosing this term to offer a somewhat repressed individual a chance to entirely erase the contents of a basically pure, but ultimately weak mind stained and infected by someone's morbid will and ambiguous behaviors. Not an infrequent occurrence, nowadays.
And so, here we are with a double vinyl of "tactile noise" – as per the press release's narrative – by a man who has already shown his abilities in the field. Music Of Liberation is principally built upon rigorous stratifications of obstreperous frequencies revealing a wealth of rich harmonic particles inside their aggressiveness (just examine the first movement). Or else, those masses hush the brain into that "active stupor" where the perspectives of reality are still kept under check, but the mechanisms of reason detour towards the recognition of a different truth.
Before anyone asks, let me tell you that this is thoroughly composed material, denoting long hours of assemblage and fine tuning. We're marine miles distant from the low-budget punkiness of certain noise acts; in this context one can separate the wavering partials, perceive the shifting lights, feel the tremors well within the nape of the neck. In those moments the essential hypothesis shines brightly – including the so-called "harsh" sections – as the elapsing of time vanishes into a new form of consciousness.
While the aforementioned press blurb refers to Organum and Nurse With Wound as comparative entities, I won't be shocked if this article gets also relished by fans of uncompromising artists such as Jason Lescalleet and Joe Colley. Not so much for a practical "similarity" in terms of sheer sonority, but for the evident painstaking care defining every minute of the album. Frankly speaking, it's pretty hard to find an Elevator Bath release that does not comply to these quality standards. (MASSIMO RICCI)
*****************
The Wire Sept 2018
z'ev Memorial
The Kitchen, New York, US
During his life, the experimental percussionist and instrument builder known as z'ev moved around the world with a talent for finding gigs and housing situations. But one place that could be considered his home, perhaps as much as any other, was New York's longstanding Manhattan performance venue The Kitchen. So it was fitting that on 23 June the space hosted an evening of performance and recollection for the man born Stefan Joel Weisser, who died on 16 December at the age of 66.
From a distance, z'ev could be intense, even, scary - shaved head making the metal piercing his ears stand out, huge metal instruments, playing a sort of industrial rock without the rock. But the man remembered by those who knew him on this Saturday evening is the warm and inquisitive, if offbeat and occasionally opportunistic intellectual committed to his work and to the life of an artist. The evening is personal, sweet and sad, blurring family and friends memorial with artist tribute.
Perhaps the most animated of the eulogies in the casual evening of spoken and performed testimonies is from Ned Sublette, taking the microphone near the end of the evening and announcing, "I'm getting tired of going to memorials."
He describes the "three-dimensional picture" being painted of "the way that he moved, his spirituality, all these running themes" and recalls being on an airplane and imagining the way z'ev would have orchestrated the sounds of the engines.
He was "a different kind of intellectual with a different kind of formation," continues Sublette, "I'd known other avant grade percussionists, but none that had no interest in steady rhythms. He was interested in envelope, timbre, in the property of the metals, in the psycho-acoustics of the room. I've never seen any comparable performing figure."
The evening's collaborative portrait includes video of z'ev talking and performing; recounting his early fascination with clouds, his discovery of William Burroughs, his forays into early visual art and later, Kabbalah-influenced sound poetry, along with clips of him playing pots and gongs. The video excerpts also show z'ev recounting playing with pots and pans, a cigarette as ever dangling from his lip, and saying he wanted to replicate electronic music by acoustic means.
Musician Bob Bellerue, one of the organizers of the event, offers a "live version of a collaboration that never happened". Bellerue and z'ev did indeed collaborate, but never realized he planned piece that Bellerue now performs, mixing and directing amplified z'ev sound from speakers into the piano case, as visceral and floor-trembling as z'ev's own work.
Shelley Hirsch gives a wonderfully hallucinatory performance of her and David Weinstein's "Club Enchantment", (sic) a piece that drew z'ev's praise. After hearing it, she said, he told her he would write an opera with her starring as the Queen of Denmark. It's another collaboration that will now never happen.
Before playing an appropriately rumbling improvisation on his slab, a hammered, strung instrument like low-end tuned percussion, Elliott Sharp recalls that he and z'ev "never played together, had a lot of laughs in exotic places". He attacks the instrument like it's some monster dulcimer, bridging the strings with a dowel rod and the side of his hand as he hammers it with a drumstick.
The sonic dedications continue. Julien Ottavi leads a group in a performance of a z'ev piece on video with a promise in text on screen to continue playing his music. Zach Layton live processes a single cymbal with severe gates, sustaining and extending the attack and bass tones. And David Linton recreates an improvisation for large water jugs swung on ropes. But perhaps the strongest depiction of his music comes from longtime friend Livia Polanyi, who describes hearing "the cry of 1000 voices" leading to the feeling of "our own annihilation".
Kurt Gottschalk
*****************
Bob Bellerue "ALL IN" (Anarchymoon Recordings)
Brainwashed http://www.brainwashed.com/index.php?option=com_content&view=article&id=11641:bob-bellerue-qall-inq&catid=13:albums-and-singles&Itemid=133
Although has a lengthy career, Brooklyn's Bob Bellerue has sat comfortably in the fringes of a fragmented noise and experimental scene. His newest release, All In, is a nicely limited tape edition that captures two distinctly different performances, one from 2011 and the other from 2014, which features him emphasizing some notably different styles from his body of work, although the final product makes for an entirely cohesive release that feels as much as a conceptual album as it would a set of two live performances three years apart.
The first half of this tape, "Redglaer @ Port D'Or 02/19/11" is the more overtly noise oriented of the two performances. Right from the opening moments he makes this clear: an abstract mechanical clatter is soon shaped into a violent, distorted buzz that at least superficially sounds like the work of an entire tabletop of guitar pedals. Throughout this, Bellerue maintains the noise standard of overdriven crunchy bass frequencies and shrill, barely regulated feedback even as he changes things up.
While it is unrelenting, he clearly has some control over this seemingly chaotic mass of sound, shifting frequencies and densities the whole time keeping things fresh and dynamic throughout. Heavy white noise washes precede sputtering, dying airplane engines and, as the piece goes on, he seems to struggle as to if he cannot decide if he prefers to emphasize the pummeling low end scrape or the shrill, brittle static. By the end the latter seems to win out, with him concluding the piece (and performance) via piercing feedback and painful, grinding power saws.
On the other half of the tape, "Blessed Thistle @ Babycastles 07/05/14" is a different Bellerue, at least at first. The heavy noise is more of a seasoning than a main course, as the first few minutes are dedicated to an idiosyncratic vibraphone like rhythmic passage that extends for a while, demonstrating more calm and restraint than the other half. There is a greater sense of peace at this point, but it is obvious that the harsher stuff is looming just beneath the surface.
Of course, this soon explodes outward, and the full on ripping, pulsating distortion and noise explodes to the surface. Again, his performance is exceptionally dynamic, blending the sustained noise outbursts together and cutting them up into aggressive, harsh stammering patterns. As it goes on, he adds more and more elements, like what sounds like digitally mangled voices, immense warning sirens, and explosive blasts to a mix that becomes denser and heavier until collapsing under its own weight and ending the piece with a jarring abruptness.
All In captures two different sides of Bob Bellerue: the side that has a strong focus on complex sound art structures, and the side that relishes the result of cranking a gain knob up as high as it goes and appreciating the ugliness that results. I think that, given this is a pair of live performances, the latter half of his style ends up being the dominant one, but that is not to say it is not a well rounded release. Instead these two different disciplines meld together nicely and, with his ability to keep things dynamic and moving, pushes it beyond being just another noise cassette.
Raised By Gypsies http://raisedbygypsies.blogspot.com/2018/05/cassette-review-bob-bellerue-all-in.html
At first it sounds like we're in traffic but then the tone shifts to one of an electric buzzing. This drones on in a lightsaber way with some static behind it which sounds like rain or perhaps splashing in a puddle. Some sharpness comes through but that electric razor feel persists. That water feeling continues back there but this droning comes through in waves now. I'm not sure why, but when coupled with the water it makes me feel like it's a jetski or some kind of boat motor which is making this sound.

The sharpness and the distortion all come together now though and it no longer feels like we're in the water. This has become a vessel of noise now, harsh. Through the sharpness can come waves of speed as if we are at the racetrack. It seems to be going in circles, then slows into distorted crashes. This electronic buzzing has been consistent throughout this side though, I will give it that. It sometimes can fade in and out, but overall, it's there to hold the piece together.

More sharp feedback now. Blares like car horns come through. There is a rippling amount of harsh static now as well. Lightsaber sharpness. This just feels like we're cutting through something now. It's not even that it sounds like a chainsaw (even though it kind of does) it just has that sort of rhythm to it-- even if we somehow made a laser pen that could slice through metal. There is also a decent amount of sharp feedback within this all as well, so you know never be unprepared for that to come out.

On the flip side we begin more with what sounds like a crowd talking but buried somewhat deeper into the background as there are also these tones coming through like a whale. Glass tones now come through in a certain rhythm and you can still hear the crowd noise if you listen closely enough. This cutting type of electronic buzz comes through now, similar to what was on Side A but with these glass-like tones still and just a new attitude I think. This is just a fun sort of electronic feel to the song but then has these occasional electric buzzsaws coming through now.

Lightsabers blast through now, a bit more hardcore. It can seemingly just as easily resemble a plane taking off before it combusts into broken windchimes. It begins to cut in and out now, as the whirrs slowly build. A scream I suppose comes out but only once and briefly. Though there are more screeches like from racecars later on which comes to more screaming, but this time they sound more like a cheering on even though they are still brief. Sharpness continues with the racecars and this just has a driving sound now but not even in that way.

Vocals seem to come through heavy distortion as words are somewhat spoken now. As it all grinds to a halt, you can hear the applause as if this was recorded live. I find it rather interesting how these pieces of music are made live and I've had theories before about creating instead of playing the same songs over and over, but even if you want to hear the same song again and again, you will very likely find something new to take from within these sounds the more times you listen to "ALL IN" and that is why I always say the best music is the music which keeps on giving. (Joshua Macala)
Houdini Mansions http://houdinimansions.com/magnetic-heart/2018/4/25/bob-bellerue-all-in
Brooklyn, New York based artist Bob Bellerue hits us hard with another classic noise release. A lot of times, I try to write in a lot of extended metaphors that describe a record - but All In is just not that type of record.
This recording instantly brings to mind the feeling of a neighborhood DIY noise venue. This place is a run down used-to-be building that has a low drop ceiling, and weird lighting - I'm imagining bare flourescent bulbs haphazardly leaned in corners.
At what has been designated 'the front' of the room, is a folding table covered in plywood and topped with a mess of cables. Presiding over this nest of electrical tape, XLR lines and stacks of vintage rackmount devices, is the noise master. He's twiddling knobs furiously, sweat upon his brow, as a tidal wave of power electronics is hitting the scattered attendees at full blast.
Some of this wicked noise is the vibrating, mechanical hum of energy, strangely comforting and apprehensive, it penetrates the rib cage and shakes the body eerily, warmly. At times a powerful squeal like a heavy duty drill to the skull pierces the room. The crowd is feeling it - each one of them is lost in their own atmosphere. Some weirdo tries to start up a conversation with you and you just nod your head in agreement to whatever the guy is saying, something philosophical. You step away, let the noise take you back over.
This music doesn't need flowery words, or poetic descriptions - it is hard and heavy hitting noise made with real machines, in a real space. Scope it out, noise heads! (Gray Lee)
*****************
Bob Bellerue "Yamaha Deluxe" 2xCD (iDeal Recordings):
Sound Ohm https://www.soundohm.com/product/yamaha-deluxe-2cd/pid/30526/
Bob Bellerue is a New York based composer, sound activist and artist. His, to us, highly important releases "Brokelyn" (LP, Love Earth Music 2014) and "Damned Piano" (2xLP, Anarchymoon Recordings 2015) were quietly released and distributed but left a deep impact on everyone it reached. The iDEAL office were very happy to receive an offer to release more piano manipulations by mr Bellerue, further examples of one of the most interesting electro-acoustic noise artists active today. His actions for his exciting End Tymes festival in Brooklyn are also noted, this is one of the most breath taking fests alive today.
Boomkat https://boomkat.com/products/yamaha-deluxe
Using the Yamaha CFIIIS PE Grand Piano alluded to in the title as a sort of resonant tone generator, Bellevue applies a matrix of speakers, amps, pickups, contact miss, microphones, pedals, and a laptop running SuperCollider, to render the instrument as hardly heard before, wrenching out something more akin to a Stephen O'Malley solo guitar performance, or even an imagined O'Malley duet with Reinhold Friedl.
The session breaks down to five uncompromising live performances, banking a mass of complex, reverberating harmonics from shearing hi-register tones to guttural subduction in the 1st part, then with a more patient temperament in the 2nd, making the grand joanna sound like a primeval, wounded beast in its dying minutes. The 3rd section expresses 20 minutes of liminal, Drumm-like tone control calving into cavernous growls and thunder, and the relatively brief part 4 transitions from barely perceptible bass presence to bone-rubbed shudders, with the 5th track expanding that aesthetic to sound like a location recording made in the bowels of sunken warship.
Anost https://anost.net/Products/Bob-Bellerue-Yamaha-Deluxe/
Bob Bellerue is a New York based composer, sound activist and artist. And on his new outing for Ideal he takes a beautiful grand piano and tosses it through a wood shredder. But in slow motion. Figuratively speaking of course.

Bellerue's highly important releases Brokelyn (Love Earth Music, 2014) and Damned Piano (Anarchymoon Recordings, 2015) were quietly released and distributed but left a deep impact on everyone it reached. So, the Ideal office was very happy to receive an offer to release more piano manipulation, further examples of one of the most interesting electro-acoustic noise artists active today.
*****************
Bob Bellerue "Piano Gaucho" CS (No Rent Records):
"I was surprised this wasn't sold out by the time I got funds to be able to order it. I know that Bob Bellerue has been hosting Ende Tymes each year and the 7th one is in a couple months, figured that would have been enough to make this tape sell out in an hour or two and that I was gonna miss out, but I am really glad it was still available. This tape is gorgeous, amplified and processed grand piano drones that shift around in an ambient fashion, really great meditational pieces."
Underground Tape Review (Jan 14, 2018)
I was given this tape by the artist shortly after it came out. Like many experimental/noise cassettes I acquire, it never entered my tape player (or consciousness) until much later, in fact not until today. After two listens to this beast of a work I must conclude that it's a masterpiece of it's kind, namely long-form Electroacoustic Drone Noise Music. Bellerue has been at it for about 20 years now, this release thus far is the crowning jewel of his feedback-based activities (although his more recent double CD on the prominent Swedish #idealrecordings or his very latest work "All In" is likely just this much, or perhaps even more epic). I think it's fair to characterize his signature sonic activities as Acoustic Feedback Explorations - in recent years the piano became his instrument/sound source of choice. Bellerue himself refers to his sound as *Power Acoustics* if I'm not mistaken - and it truly IS powerful... This release features two over half an hour pieces (featured here is an excerpt from Side A's "Damned Piano"). The material is positively monolithic, sonically expansive, at times cathartic, other moments subtle & pastoral. The sonic changes are generally gradual, organically sweeping movements but at times the feedback loops take unexpected, surprisingly dramatic turns. A truly exquisite, immersive listening experience. The cassette is beautifully packaged and designed by Jason Crumer (head of No Rent). A monstrous work - very highly recommended, please listen/buy on the label bandcamp.
*****************
Bob Bellerue "Hollow Body" 2xCS (Los Disco Enfantasmes):

The Wire, Jan 2016 scan of original
Mr Bellerue once favored homemade instruments as noise generators, but of late he has chosen to work with actual manufactured-for-the-masses axes. His recent album for grand piano was a gas, and this set for hollow body guitar is as well. It's not as though Bob actually plays the guitar. He uses it as a conduit for feedback more than anything else, and this instrument is a particularly good conduit. The rumbling here goes from bowel-ish to almost psychedelic, weaving clots of abstraction like a butcher with a knitting needle. (Byron Coley)
*****************
"Damned Piano" 2xLP (Anarchymoon Recordings):
The Wire Nov 2015 PDF
This epic and at times over the top work fully delivers on its forthright title, which suggests the instrument in question at best deserves expletives and at worst warrants an exorcism. There's no melodic ivory tinkling to be found here – Bellerue positions various objects on the body of the piano and its soundboard to draw out their resonant properties, then amplifies the results to cacophonous volumes. Over its four-part 64 minute duration, Damned Piano segues from looming, opaque, abraded drone workouts, to noise climaxes rippling with finely striated tonal detail, to extended passages of impenetrably dense frequencies, reverberating with seismic shudders. Proceedings do verge on the schlocky – the artwork is festooned with foreboding gothic lettering, some of which exhorts the listener to "turn it up to frightening levels". And more variety in approach – or even something other than continual all-out attack – would have provided helpful contrast. Still, it's certainly entertaining throughout.
Pitchfork "The Out Door" http://the-out-door.tumblr.com/post/111870983970/200-words-bob-bellerue
I can't tell how much hearing the title Damned Piano before I heard the music colored my experience of Bob Bellerue's masterful double LP, but either way it strikes me as one of the most apt names ever. In these four brain-encroaching slabs of drone, ambience, noise, and sonic terror, Bellerue sounds like he's doing everything he can to exorcise demons out of a piano. The process he used sounds a little ritualistic too, but it's the results that bear ghosts, erecting a black-toned universe of creepily-calm, subconsciously-urgent music.
At times it feels like even Bellerue has run scared from his sounds and they've taken the record over, trawling around all the bodies they just killed looking for a few final scraps of meat. But that's an aural illusion: listen to the entire hour-plus in one sitting and it's clear that every moment is deftly controlled. My favorite parts are when what seems like a restful bit of subdued drone morphs into a chainsaw that you only notice once it's been plunged into your eyeballs. Damned Piano's basic DNA is ultimately pretty simple – tons of attack and just as much decay – but the monster it spawns is as complex as music gets.
– Marc Masters
AdHoc http://adhoc.fm/post/bob-bellerue-side-d/
"We're all playing the same song, we're just tapping into it at a different point." This quote, attributed to "one of the Wolf Eyes dudes" by Bob Bellerue in an interview with TMT, could be the ethos of noise music; a style which focuses on exploring a process rather than promoting a product. As a theater technician, Bob Bellerue is adept at using space to contribute to a piece of work. His music is intense, and he uses physical space to affect the trajectory of his noise compositions, which are improvised, expansive, and harsh. On "Side D," from his new album Damned Piano, the room is as much of an instrument as the body of the piano Bellerue "plays." There may be some third-variable tomfoolery going on here, but whatever is in the kool-aid that compels Bellerue to torture the strings of a Weber grand and commit its anguished cry to tape must also give him superpolymathic powers. As I mentioned, he's a theater technician, but he also runs the Brooklyn festival Ende Tymes, two record labels, and has an impressive,mile-long CV of releases and installatons.
Damned Piano is out now on Anarchymoon in a vinyl edition of 200.
Splice Today "2014 Music Poll" http://splicetoday.com/music/the-2014-splice-today-music-poll
Bob Bellerue, Damned Piano (Anarchymoon Recordings). Brooklyn's Bob Bellerue released or featured on more noise or noise-associated albums this year than I have fingers to count them; they're all good to great, but Damned Piano is the LP I find myself returning to again and again. Sixty-some minutes of concentrated croak, drone, and scrape rooted in bass, Piano proffers rich, understated rumble that occasionally gives way to towering showers of sparks or lonesome cable-car rides across abysses. The overall effect is less grindingly vigorous than it is meditatively dissociative, zapping the listener out of the realm of the immediate and leaving her backstroking through ether, contemplating the eternal. RC
Yeezus Walk With Me http://yeezuswalkwithme.tumblr.com/post/107541936385/bob-bellerue-damned-piano-2015
Bob Bellerue is an experimental musician / noise composer who has been especially productive since the early 2000s, recording under names such as his own, Redglaer,Halfnormal, and has recently been performing as Blessed Thistle. Based in NYC since 2008, Bellerue is involved with numerous performing arts spaces and DIY venues such as The Silent Barn, where he hosts the annual Ende Tymes noise festival (since 2010).
Bellerue's latest project is Damned Piano, a double-LP consisting of four different interpretations of a piece he has performed live in New York and the Western states. The project, formerly called F*cking Piano, explores the feedback potentials of an amplified piano soundboard. Damned Piano is far from being Bellerue's first attempt at making a record of this nature (the most notable is his Amplified Piano Duets with Jarrett Silberman, recorded in 2006), but it is probably his most ambitious.
Recorded on a 19th-century Weber grand piano last July in the cavernous live room at Future Past Studios (formerly a chapel), Bellerue utilizes speakers, pickups, mics and pedals to create "creeping resonances, wailing tones, visceral drones, chaotic rhythms, and maelstroms of powerful sound." Damned Piano is on a very different sonic plane from other piano-based drone such as Tim Hecker and William Basinski, falling more in the field of improv akin to Jason Lescalleet.
Back when I studied piano, my favorite thing to do was hold the damper pedal down and strum the bass strings. What Bellerue does here is a definitely a more conscious and purposeful version of that. The keys of the instrument are never pressed, but my favorite moments on the record are when the sound of the low piano strings are most present, creating a rumbling sea of overtones unrestrained yet fully under control. In fact this record showcases Bellerue at his most determined and resolute.
Side 1: Instead of conjuring up the modern industrial age, as much of powerelectronics tends to do, this track, a major highlight of the record for me, makes me think more of the machines used in medieval torture dungeons. You can even hear the crank being pulled on the rack. But there are no screams. Note the subtle drone in the middle range that recalls the strumming in slow Indian ragas.
Side 2: Like side 1, this one has deep and heavy drones in the vein of Sunn O))). Also sounds like a heavily affected ensemble of trombones and tubas.
Side 3: Sounds almost as if the soundboard is being ripped apart by a saw grinder.
Side 4: This track makes the most use of feedback and effect pedals, and comes closest to feeling like a live performance of the piece.
Damned Piano will be released in a limited edition of 200 this March on Friday the 13th, on Bellerue's own label Anarchymoon Recordings.
Splice Today http://splicetoday.com/music/three-wind-up-pitches
Bob Bellerue, "Damned Piano, Track A"
"Groan drone" or "dirge drone" lacks currency in noise, probably because high frequencies intermingled with low ones and system/amplifier havoc are sexier, more immediately apt to seize the attention of audiences. Damned Piano—out on Anarchymoon sometime in the near future—is a celebration of turn-down-for-what groan drone: gratuitous, crepuscular lowing expressed (I surmise) via vibrating bass strings and electronics manipulation and the unorthodox triggering of pianos. The first movement is very shadowy, very indistinct, snaking along in rasps that are likely to stretch way, way out or clump up suddenly or give way to hissing brown tones that are barely even there. And when Bellerue finally shrugs away his clouded reveries, it's like being locked in a dark sub-basement with several baseboard heaters that chose the exact same moment to snarl to life.
Nova Express http://novaexpressmusique.blogspot.com/2015/02/bob-bellerue-damned-piano.html
Bob Bellerue - Damned Piano
On reconnait bien le son d'un grand piano Weber même si le plus souvent ça ressemble plutôt à une scie sauteuse black et Decker. A nouveau un disque qui sonne plus richement abrasif que joliment mélodique. Les dernières minutes sont quand même éprouvantes.
Lien bandcamp
Drone, dark ambient, expé, noise, solo de piano from NY, 13 mars 2015
*****************
Bob Bellerue "Brokelyn" LP (Love Earth Music):

The Wire, Feb 2014 scan of original
Bob Bellerue has been at the centre of the american noise scene for over 15 years, as a musician, label honcho and, perhaps most importantly, as the curator of a series of noise festivals in both Los Angeles and New York. However, he has yet to fully characterise himself as a solo artist with a definitive recorded statement. Perhaps his protean sonic personality and catholic taste should be considered his particular artistic voice - however difficult to brand and market that might be. "Brokelyn" is Bellerue's best work since "American Masonry" (which was released in 2006 under the pseudonym Redglaer) and showcases his eclectic approach.
It's something of an 'everything but the kitchen sink' kind of recording, opening with processed field recordings which progress into drones, mechanical loops, blasts of feedback, weird vocalisations, and finally a surge of full-bore harsh noise. It is all very tastefully organised and sequenced into two side-long tracks, both of which exhibit a sense of pacing and narrative logic that justify the grab-bag nature of the sounds.
Village Voice http://blogs.villagevoice.com/music/2014/01/please_enjoy_responsibly_1.php
NYC NOISE ALBUM OF THE MONTH
The first noises you notice on Brokelyn (Love Earth Music) are scrapes: small and desperate ones, gushing in abundance, as if a blank cassette were struggling mightily to escape from a tape deck. The effect is reminiscent, in a way, of the accidental poetry of old celluloid movie reels. This is Bob Bellerue's show--literally, since Brokelyn consists of two live sets--and he piles on with the clawing until a distracted synthesizer drone and a surge of ascendant up-pitches materializes. Notional ghosts and birds haunt a feedback drizzle where pulsations incrementally alter the tone and emphasis; in the second set, particularly, it often seems like a zipper is being opened and closed across an already malleable sonic fabric, or that fighter pilot afterburners are being powered up, and down, and back up again. Put out the cat, pour yourself a fine Chardonnay, and crank this one up on the Bose home stereo.
AdHoc http://adhoc.fm/post/bob-bellerue-brokelyn/
Welcome to Bob Bellerue's hellscape. He is one of those guys that enjoys the binary of being generous and wise person while sporting a real scary noise persona. He often performs as Diablo and dons this gnarly Beezlebub mustache. Bob Bellerue is not just a friendly face in the greater noise scene, but one of its real moves and shakers. In addition to running sound at all sorts of wild shows from Kevin Drumm at Artists Space to any number of things as Issue Project Room, he is single-handedly responsible for Ende Tymes. For total freaks, rightful outcasts, and squares alike, Ende Tymes has been the absolute highlight of the Brooklyn experimental scene for three years running, bringing together people with an ill sense of music from all over the country. Well, now it's Bob's time to shine, as he is finally presenting his first solo LP. Brokelyn is as much a pun as it is a reality, because this borough is indeed quite broken. And it smells bad. Recorded exactly 14 months apart at Goodbye Blue Monday, the two pieces onBrokelyn see Bellerue giving a crash course on a number of his most common sonic tools, which includes computer noise, a ton of feedback, a variety of uncommon wind instruments (including the gambuh suling), and his Slack Ass'd Hollow Body. Bellerue explained this guitar creation over email, noting that he put speaker drivers in the body and that "the strings are as loose as they can be while still [being] able to resonate, so it is a feedback machine on par with volcanos and earthquakes."
Big Takeover http://bigtakeover.com/recordings/bob-bellerue-brokelyn-lp-love-earth-music
Bob Bellerue - Brokelyn LP (Love Earth Music)
Bob Bellerue Brokelyn Love Earth Music
1 October 2014
by Chuck Foster
After many years immersed in the underground noise scenes in Los Angeles and New York, sound artist and curator of Brooklyn's Ende Tymes Festival of Noise and Experimental Liberation, Bob Bellerue (Halfnormal, KILT), finally joins the LEM roster with a major slab of high fidelity vinyl comprised of two sides recorded live at Goodbye Blue Monday in Bushwick within the past five years.
"091809" opens with birds and traffic, a typical morning for any Brooklyn resident. As the sounds warp and collide, they become the noise of the day buried in textured static and effects laden frequencies. This isn't sonic free-for-all, it's carefully executed aural art rooted in the low and mid-range spectrum. Rumbling electronics morph into cyber screams and back as the performance progresses, eventually building to a mind-bending finish of electrical flutter.
"111810," on the other hand, takes things even further, beginning with what sounds like a short-wave radio tuned to an empty channel, building into dark, ominous territory. Deep within the subdued static and quietly churning effects lies the sound of nightmares long forgotten, where the only memory is that uneasy feeling that can never be fully placed. A faint voice creeps out of the snow, only to fade away as the wall-of-noise builds energy, recedes and rises again, an electric wave that ends in mid-thought.
In the realm of noise and experimental music, Bob Bellerue elevates his recordings beyond the mere level of harshness into three-dimensional soundscapes that can be felt as well as heard. In this, he is a true artist, fully deserving of the title.
Existence Establishment http://existest.org/ee_v3/?p=8478
Bob Bellerue – Brokelyn LP
Love Earth Music
Bob Bellerue has been a major force in the NYC noise scene for quite some time now and it's good to finally be able to hear a full-length release from this tenured artist. The insert recommends that the listener use a high-fidelity sound system and "turn it up to FUCK YEAH" for best results. Well Bob, you are in luck because I have such a system and my roommates aren't home.
Side A kicks off with some classic daytime ambience complete with bird calls and subtle wind. It builds to a phasing, pulsating wall of thick droning noise. The track slowly morphs over time but is quite consistent throughout. The sound manipulation keeps the track evolving however and provides a seething bed of malcontent frequencies.
Side B features the track 111810 which encapsulates various metallic wire-like textures distorted and saturated. Finally breaking down into low tones yet slowly morphing into searing highs. It has similar qualities to side A but enough variation to keep my interest piqued. About half way through there is a rise of subtle field samples which could be simple city ambience or the sounds of war. It's very much embedded in the noise so it's hard to tell but the abstraction is effective.
Brokelyn is a solid effort with a decently consistent vision throughout. The sonic material on here could be described as ambient-noise and has enough detail to show that there was some thought put into recording these tracks. I also enjoy the thick and saturated sound that Bellerue is able to achieve here. Good work.
Village Voice "Best Noise Music in 2014" http://blogs.villagevoice.com/music/2014/12/the_best_noise_music_in_2014_the_years_top_75_noise_cuts.php?page=4
20. Bob Bellerue, "111810" Brooklyn's Bellerue invites one and all into the guts of an active sewing machine.
*****************
Bob Bellerue "Cure The Antidote" CS (Los Disco Enfantasmes):
Tabs Out "Top 200 Tapes of 2014" http://www.tabsout.com/?p=7996
Magnet "Best of 2014: Noise" http://www.magnetmagazine.com/2014/12/02/best-of-2014-noise/
*****************
Bob Bellerue "Butcher's Broom" LP (Prison Tatt):
Tiny Mix Tapes http://www.tinymixtapes.com/cerberus/bob-bellerue-butchers-broom
Bob Bellerue
Butcher's Broom [LP; Prison Tatt]
By GRANT 'GUMSHOE' PURDUM on Jul 24 2014
Bob Bellerue's been around for a bit now. In fact, one of his other releases, a double-tape on Cerbs titan Los Discos Enfantasmes, landed in my mailbox a bit ago. But that's not why we're here; Butcher's Broom is a 100-run, numbered full-length LP that stands proud next to the lofi, often black-metal clientele of the Prison Tatt label. Bellerue, however, is an experimentalist, plain and simple. And yes, he dabbles in noise. And drone. And drill-bits. If you're going to step into the butcher's room be ready for some hard-ass throbs and long, sustained bouts of black moodiness that roll by like death clouds. The Broom is every bit as heavy/ominous as yr standard black-metal exercise without a riff nor scream in sight. Bellerue sticks to the script stubbornly, subscribing to scrubbed-out swaths of low-end burnt at the corners by sly manipulations only he could explain the origins of. I would stop short of stuffing Butcher's Broom into the harsh category, but there's nothing mild about the majority of its contents. It's just the way Bellerue sculpts his sound. He's out to blow your mind not bash your teeth in after scraping them on the pavement (I might be wayyy off there.) Then again maybe I'm desensitized to the sounds of machinery and death rattles and high-pitched squeals, as there is ample evidence of each. Beneath the grinding, about halfway through Side A, however, is a layer that holds even more intrigue if you can train your ears to hone in on it. It's like using a decoder-ring to read a secret message, minus the instant results. You'll have to listen a few times to straighten your head out. Then you can start dealing with the distant toms you think you hear amid the throbs…
*****************
Ende Tymes 2015:
AdHoc http://adhoc.fm/post/ende-tymes-festival-lineup-announced/
Secret Decoder http://www.secretdecoder.net/blog/2015/02/07/week-in-review-54/
*****************
Ende Tymes 2014:
Hyperallergic http://hyperallergic.com/126180/a-festival-of-noise-and-experimental-liberation/
Village Voice http://blogs.villagevoice.com/music/2014/05/ende_tymes_festival_highlights.php
Time Out NY (print edition) link to scan
Clocktower / Art On Air Radio http://clocktower.org/show/bob-bellerue-nat-roe-ende-tymes-festival
Ad Hoc http://adhoc.fm/post/ende-tymes-iv-announces-line-starts-fundraiser/
Tiny Mix Tapes http://www.tinymixtapes.com/news/ende-tymes-festival-iv-to-feature-kevin-drumm-pedestrian-deposit-phill-niblock-pete-swanson-hir
Brooklyn Vegan http://www.brooklynvegan.com/archives/2014/02/ende_tymes_fest_3.html
Animal http://animalnewyork.com/2014/four-day-noise-video-art-festival-coming-silent-barn/
Decoder http://www.secretdecoder.net/blog/2014/03/22/week-in-review-11/
*****************
Ende Tymes 2013:
Tiny Mix Tapes :: http://www.tinymixtapes.com/features/bob-bellerue-ende-tymes-festival ( note: the original is an editing hatch job. the unpublished revised version can be found here )
Time Out NY :: http://www.timeout.com/newyork/music/ende-tymes-festival
East Village Radio :: http://www.eastvillageradio.com/content/content.php?id=6093
Tiny Mix Tapes :: http://www.tinymixtapes.com/news/ende-tymes-doing-fundraiser-for-may-festival-aaron-dilloway-macronympha-crank-sturgeon-pulse-em
Ad Hoc :: http://adhoc.fm/post/ende-tymes-announces-full-line-runs-fundraiser/
Brooklyn Vegan :: http://www.brooklynvegan.com/archives/2013/04/ende_tymes_fest_2.html
East Village Radio :: http://www.eastvillageradio.com/content/content.php?id=5375
Tiny Mix Tapes :: http://www.tinymixtapes.com/news/ende-tymes-noise-festival-2013-aaron-dilloway-pulse-emitter-zaimph-workdeath-lots-more
Essoterrorist :: http://esoterrorist.com/?p=1292
Ad Hoc :: http://adhoc.fm/post/ende-tymes-2013-announced/
*****************
Diablo "Twins" CS (Sleepy Hollow Editions)
Village Voice "The Ten Best Noise Tracks of 2012" http://blogs.villagevoice.com/music/2012/12/ten_best_noise_tracks_2012.php?page=4

*****************
Aquarius Records
KILT "Santa Muerte" LP
"Super limited new lp from this free form blackened doom-drone-noise combo, two sidelong sprawls of twisted improvised blacknoise, each track awesomely and hilariously titled ("Satan Fe" and "Denvhorr"), and featuring at least one member of LA black metal horde Harassor, but this is far from black metal, there is most definitely a blackness, but the sound Kilt conjures up is more like droned our power electronics, lush and layered but corrosive and chaotic, churning low end burbles beneath grinding sheets of burnished white noise, streaks of feedback wrapped around heaving swells of super distorted thrum, blasts of super blown out buzz that sound almost like DHR beats recontextualized, clouds of cymbal shimmer, the sound woozy and warped, slipping from hushed drift to roiling speaker melting ferocity. There seem to be vocals too, chant like, but before they can form they seem to melt into the sounds around them. The sound is also fairly dynamic, with some of the low end peeling away, and leaving blasts of keening high end, or swirling fields of static, even a weird whistling melody at one point, or a wheezing chordal thrum, but even at its most ferocious, for a 'noise' record, it's surprisingly listenable, the textures and fractured melodies, the tone and timbre, not as harsh as it might seem at first blush, it's pretty tranced out and mesmeric. The second side starts out with a blast of fractured sound, jagged jump cuts and blasts of noise, before settling into a warm swirl of muted crunch and blurred rumble, and from there on out, the sound drifts from washed out crackly drift, to face melting howl, and back again, seeming to attain a sort of sonic equilibrium right in the middle, making this more mesmerizing than brutal, and we're far from being proponents of harsh noise, but this is the sort of sculpted noise, the sort of blown out power electronics and textured blacknoise dronemusic that we can't seem to get enough of.
LIMITED TO 120 COPIES!! Each in a swank hand silk-screened cover."

decayReviews link
KILT "La Santisima Muerte" CS
US scattered super group KILT, (Bob Bellerue, Raven Chacon, and AndorKappen recently made a trek through the Bay Area a few weeks ago and farted out one of these little tour tapes my direction, It's a cassette version of a forthcoming LP, (which I was lucky enough to receive one of the test presses for (mwahahaha) but the cassette will get the review as it's exists in it's final form.
Popped this lil sucker into the stereo. Intro's with slow winds, creeks, gentle shudders, and whisps from a distant cracked window. This seems unusually nerving for this dynamic outfit, yet the intensity starts building, building, building, and clawing at your inner most ear hole, crawling in and leaving a vile sonic infection which begins to ooze and pus with the blackened fluids that is "La SantaMuerte". Before your system can react, flesh is pummeled with barely discernable vocals, pummeling feedback, high pitched cuts and scrapes, buzzing distortions, oscillators- POWERFUL SOUNDS. Peaking and troughing with dynamic rhythmic slams, ascending frequency modulations, and, the tension of metal cables snapping, architectural misfortunes – KILT ebbs and flows like the shifting of California's unstable tectonic plate museum. A dark, chaotic machine chugging through the batten landscape of a failed system.
Flip this little devil and it's more of the same. Dense thought out composition, harsh, vibrating spaces are carved out with scientific precision, theatrical dynamics, and swelling bass and distortion. Occasionally locking into a groove and then dicinigrating said groove within seconds, gives this release dark, yet traceable pacing – a must for fans of harsh noise, and negative spaces. This power trio does not disappoint in the slightest with this release, be sure to pick up the LP as soon as it drops, if it sounds good on tape, it should warm up nice in helllllllllll……..
*****************
Ende Tymes 2012:
Tiny Mix Tapes and again
Village Voice / SF Weekly / LA Weekly / etc
*****************
Ende Tymes 2011:
Q&A: Ende Tymes Fest Organizer Bob Bellerue On The Apocalypse And The Evolution Of Noise
Apocalypto-a-go-go: Looking Forward to The Ende Tymes Noise & Liberation Festival
10 Reasons Why You Should Attend Ende Tymes Noise Fest This Weekend
*****************
Maeror3 permalink google translation
Z'EV and Bob Bellerue "felt, if not seen" (Phage Tapes)
9 May 2012
Recording of a live performance conducted by the Ninth June 2010 in an institution under the name «Diapason» classic industrial music by Stephen Veyssserom (Z `EV), a man who can be called" Metalist ", judging from the spirit and content of his many years of work, and Bob Beller, also prone to tangible objects as sources of sound, but do not forget about the possibilities of electronic equipment and the intricacies of playing very upset and dissected guitar. Concert track conditionally divided into several parts, each of which has its own mood and message. Sitting in front of a large tin drum, surrounded by gongs, strange suspended iron box (which is worth recalling a little later, when the insides of his Stefan will just get a variety of strange sounds, running along the walls of different objects) and numerous percussion instruments, set to begin Veysser assertive, thundering rhythm, ritual nature of which is disclosed with a straight eschatological power, for which no time, and Beller, making an attempt to push into a dense cloud of chatter, monotonous beats, ringing in the head who gives emasculated digital buzz and something else strange squeaked by extended background signal amplitudes. Tin and steel showered a hail gusts of wind, disturbing and exciting - in a word, it's very cool. Warmed up and stretch at the same time listeners, musicians moving to a more relaxed and focused phase. Again clouds whipped percussion, again the monotony digital conversions and minimal distortion, but now within the sound of these spaces is not any conflicts, and they form a very meditative atmosphere. The second half performance can be compared to a funnel, which is a dense resonant rumble, electrical angry outbursts sharply piercing noises, draws a metallic sound, making of the amorphous, bringing to the verge of hearing and digesting in the rustling of steel powder. "Third" part - the ambient, but the word «ambient» is stick the word «noise». The final minutes of a given psevdomuzyke quietest, just extracted from the bowels of the above boxes, you are weird experiments on the processing of raw material, through a chain of transformations which tries to break through all the same powerful, ritualistic rhythm of urban shamans from the industrial suburbs. (unedited translation by google)
*****************
Animal Psi permalink
KILT – 'Vaya Con Nada' [Review]
21 Jul 09 - CDr, Review
The collaborative one-off by three gentlemen (Bop Bellerue, Raven Chacon, Sandor Finta), perhaps better known for their hand as label-bosses (of Anarchymoon, SickSickSick, and Bastardised respectively), KILT play the classic noise recital of thick-banded distortion, taffy-stretched tones, and imported cosmos in little granular tosses. The 3" excerpt of a one-night stand at LA's Il Corral entitled 'Vaya Con Nada' offers authorial turn-taking, or in the least, sonic ecumenism, probing the picas which space the title in turns of harsh drone and harsh minimalism. Mechanical, inorganic, and macroscopically busy - whatever myopia each player suffers is deflated by the amplification of simultaneity, specifically the tone-deafness which the artist brings to the positivistic creation, nothing a little negative dialectic of group play can't solve. Despite being presumably a live performance with audience, the hum of bodies is not evident, nor is the deft lilt of sound to listening mass which can severely undermine a recording (not to mention performance), and in this same sense, the production is flawless and full. Seventy-one copies in a heavy, screened sleeve and vinyl slip.
*****************
Heathen Harvest link
Bob Bellerue + Jarrett Silberman - Amplified Piano Duets
April 01 2010 by Vargr Wulf
A real treat here for noise maniacs who share an appreciation of La Monte Young, Charlemagne Palestine and other experimental drone and avant garde art of that nature. Even though this has the word "Piano" in the title, you might as well throw out any immediate prejudices that instrument brings to mind. This does not sound like it was recorded anywhere near a piano, unless we are talking about a piano being sawed in half at an industrial site. The basic sounds on this recording seem to come from a disturbed manipulation of the large strings inside of the piano for drone and noise purposes. I do not know much about either of these artists, except that Bellerue mastered the recent "Dog Bone" 2x7" also on Anarchymoon, as well as having something to do with the excellent venue called The Smell in Los Angeles. These two guys put together some recordings that they had both been working with in their spare time and put them together, and this one-sided LP is the result.
My first reaction, and maybe this is the OCD in me coming out, is why just one side? LPs are expensive to make, and I would love to have heard another side of material from these guys, even an alternate mix of the single track would be interesting. But that is the sort of complaint that just says that the material on side one is really interesting and compelling stuff. The duo gets into an intense drone at several different segments on this 1/2LP, and when things really get crazy it starts to sound like construction going on. That is probably a reason why noise music is more accepted in larger urban hellholes, because of the similarity to construction sounds. This music is downright destructive. It is hard to believe that it is two people bringing together separate solo efforts, because this release seems to have a very intense dedication to a monomaniacal sound. Bellerue and Silberman come together as one artist on this recording. If you asked me what this was made with, rather than guessing a piano I would have more likely guessed some sort of electronic oscillator.
The photos on the cover (a black-on-orange xerox of dying/dead sunflowers) does not do justice to the sounds on this collaborative LP. This is a raging noise one-sider that brings to mind the more drone-conscious efforts of groups like the Haters and the New Blockaders. An intensive drone noise workout that comes out of left field, threatening to completely obliterate your speakers. For the most part the sounds come together to make one single weirdly treble-y drone sound that is quite unusual. Eventually the sounds will build up into a more oppressive and throbbing rhythm. Brief and super-intense, this is pretty different from any other drone that I have encountered, and the vinyl format accurately delivers the brutality at 33 revolutions per minute. Sounds just like fresh-cut grass! Awesome.
*****************
As Loud As Possible, Vol 1
Redglaer "American Masonry" CD
Originally released as a 10-inch record with hand-painted chipboard sleeves and color artwork on the back, American Masonry sold out quickly during Bob Bellerue's extended cross-cross tour of the United States. The original record was a planet-sized mass of atmospheric density, a feeling like being in the furthest reaches of space, a tactile sense of all of the distant planets pushing their weight on your fragile body while the cold void surrounds you. This CD reissues the original 10-inch tracks, expanding them to their full lengths (they had to be shortened to fit on the vinyl) along with a long third track in a similar style. It's housed in a small chipboard jacket, with a simulation of the original record's painted circles on the cover reproduced in embossed black foil.
Most Redglaer i've heard has been personal and individual, incorporating shriek reed sounds from Bellerue's shenai, treated with oscillators and cardboard speaker rattle, alien junk assemblages that resemble a herd of rats transporting a box full of plastic drumsticks across the kitchen floor. American Masonry, by comparison, contains a full-spectrum density unlike the more personal recordings, creating drones of impossibly large volume, ripples from solar flares bouncing off the walls as fidelity alternates between crystal-clear and scratchy like there's a short in the electrical system.
Occasional outbursts threaten to punch the speaker cones out of your already-hurting speakers, with a dynamic range that jars the mind too much to be considered a 'chill out' recording. A superb collection of heavy drones for heavy voiding of the mind.
*****************
As Loud As Possible, Vol 1
KILT "Snow White In Hell" LP
KILT is a noisy power trio of the south/western United States, featuring Bob Bellerue (Redglaer, Halfnormal), Raven Chacon (Cobra//Group, Dog Shit Taco, as well as his own name as a chamber / classical composer) and Sandor Finta (Democri$y). Starting in Power Electronics mode, with ultra-distorted bullhorn vox mixing with shards of flinty digital ache, the record feels like we're just in a holding pattern before the dam bursts. As the side goes on, though, the forces continue to gather outside the city walls, but no call to war is ever uttered. It is soon apparent that this album is less about straight noise destruction, and more about a thunderous take on free improvisation (a la AMM, Spontaneous Music Ensemble, and Morphogenesis). It's noisy, yes, but not strictly noise - there's a lot of narrative buried in these grooves.
Considering the three distant personalities contributing, the results are spacious and uncluttered, and individual gestures project from the melee constantly. Snow White In Hell is loud, it's forceful, but it's not especially punishing - it deliberately steps back every time an opportunity to score a hammer-to-the-skull death blow. This is not a criticism, though. This record is not a wall, but a river, a river which contains a constant supply of dead things floating in the muck for you to pull out, turn over in your hands, and toss back. As a forthright statement of forceful wishes, it's a very satisfying, moment-driven as opposed to a cascade of unchanging harshness. However, considering the group's wish to be evil and harsh, though, it might almost be too subtle for it's own good.
The record is pressed on randomly-colored vinyl (mine was gray and marbly, yours might be pink or brown or puke) and has an outstanding silkscreen cover (silver ink on front, gold on back, monster faces for all).
*****************
As Loud As Possible, Vol 1
Various Artists "ABQ=/=LAX" 5-way split 7"
Five-way split/compilation 7-inch, with the two of vinyl sides choosing up turf in the little-known beef (?) between Albuquerque and LA. ('My airport can beat your airport!' suggests the title). It's a pretty evenly-matched battle. Raven Chacon's opening salvo on the Albuquerque side would be a blue ribbon in any other fair, with its anemic whistling mated to a strong parking-lot-at-3-am ambience, but it still manages to get overtaken by his worthy allies/rivals - no small feat for such a fine little track. Alchemical Burn, a name I wasn't familiar with before hearing this, tags in with a ferocious blast of 50s sci-fi blurt and 80s digital burn, like Solid Eye in a fit of indignant belligerence.
The LA side contains few slackers at all. Redglaer's up first, and his track is pretty outstanding. The difference between projects that rely on pedals and those that create processes is instantly apparent at times like this. Processes produce truly raw, abused tones - pedals just change the skin around the object. Bob Bellerue's processes and feedback systems send his sinewaves into the trauma ward - I've never heard sounds that wanted to ESCAPE from their tyrannical master like I do here, though none of these escaping inmates know that their jailer has attached electric shackles to their ankles…. they shan't get far. Mark Beyer (who also did the squinty silkscreened art, and is better known as the guy who did John Zorn's "Spy vs Spy" album cover) contributes a perfect track - wild balloon squeaks, oscillator garble, all manner of toolbox clatter, and just a pinch of analogue synth in its death throes. Again, I hate to give credence to idiots who can't see past 1995, but tracks like this make it hard to ignore the distinct possibility that the palette of modern sounds has become self-limited in the past decade or so, and this one-minute track opens a door to all sorts of new possibilities, all of them nasty. George Alan Ledergerber shimmers his guitar strings, reverbs them, and sculpts them into evocative melodies. This isn't the best thing here - in fact it's a toss-up between this and Raven Chacson for who gets the unenviable bottom slot, though the short duration makes it a pretty little coda. Not since the halcyon days of "Northern California Audio Document" has a locally-themed 7-inch comp so thoroughly charmed me.
*****************
Existence Establishment link
Redglaer – Radioactive Concept C30
Abandon Ship Records
This is my first exposure to Redglaer although the name sounds familiar. This a simple tape with black and white illustrated imagery as the artwork. One track graces each side and I'm guessing each one runs about 15 minutes.
Side A features "Longmont Improvisation" a droning noisy assault that features a constant mid-range frequency accompanied with a good dosage of feedback, distorted interruptions, and along the way there appears some subtle vocal cut-up samples. I like the general production, it's nice and crunchy but the central drone gets dry very quickly and it numbs me to the rest of the track. It just goes on way too long before it is finally changed.
Side B brings us "Radioactive Concept" which is a great track with dynamic and varied walls of harsh noise. Choppy synths, washes of compressed distortion, blasts of different textures and twangs. It's all more textural here than rhythmic in any way but they flow into each other with tactfulness. Sometimes slowly gaining height in pitch only to finally crash down into a huge bass drone and then slowly become a more spacious atmosphere. It's lo-fi but has a great element of simplicity that also holds depth. Very nice work on this one, I wish side A was closer in sound to side B and the track proves that there is a lot of potential with this project.
Overall a good little tape. Solid artwork and vision throughout the release, side A will definitely appeal to drone heads a bit more, but if you are at all into harsh noise with heavy drone-influenced textures then you will also enjoy side B. I'm definitely interested in hearing more of this artist in the future.
*****************
Foxy Digitalis link
Hector Cuvelier & Emile De Potter/Bob Bellerue "split" 3'' cd-r
28 July, 2010
Great split on the Anarchy Moon label, featuring Belgian duo Hector Cuvelier & Emile De Potter and Brooklyn musician Bob Bellerue, both of whom play harsh noise. What makes this release more interesting than the average split is that the artists on this recording complement each other nicely. There's a fair bit of continuity between the two CDRs, as both groups share quite a bit in common sonically, but this release also allows both groups to display their own take on noise.
The first CDR contains two pieces by Hector Cuvelier & Emile De Potter. "Rance," the stronger of the two tracks, starts off with shouted vocals and white noise, but gets gradually more quiet as the track progresses. By the end of the track, the noise has almost completely abated, leaving the listener with a few seconds of relative silence before the next track starts.
On a related note, the term "Rance" may refer either to a river on which the first tidal power plant was built or the perverted titular character of a long-running Japanese RPG series in which the goal is to have sex with as many women as possible (pretty raunchy stuff; one review for a recent entry in the series advises one to stay away from this title if one is bothered by the idea of rape). No idea as to whether this piece is meant to soundtrack mankind's attempt to domesticate nature or the exploration of his perversion, but honestly, are the two really that different?
Bob Bellerue's contribution to this collection is a single track, "at Freak's End". Bellerue's composition includes samples from more "organic" sources set against a backdrop of noise. This juxtaposition of noise with more "normal" sounds challenges the conventional understanding of noise as something unusual. Instead, noise is something conventional, sound one is as likely to hear as piano music.
In any case, this release contains some of the better noise music that I've heard this year. Packaged simply, yet elegantly, and limited to 50 copies, this is a recording that I would recommend picking up, and quickly. 8/10 -- Jonathan Rahardjo
*****************
Animal Psi permalink
Hector Cuvelier & Emile De Potter/Bob Bellerue split 2x3" CDr - Anarchymoon
31 May 10
Perhaps it is the perpetuity of southern California's climate which inhibits wanton change as Los Angeles proves a lasting epicenter for noise music, so dutifully shepherded by Bob Bellerue and his Anarchymoon label. Beyond the form of noise itself, selecting sleeves, projects, and editions which show little-to-no economic foresight, Bellerue has exhibited true dedication to noise music and lay experiment as others in his cohort and after drift so glibly away. Exercised as something of a clearinghouse, Anarchymoon has stepped-up at odd intervals over its 8 years to represent and rally, anticipating the summer of 2010 with a handful of CDr releases and a pair of LPs (reviews forthcoming).
Today we have a split so meiotic that it literally splits into two different discs – an adorable format of double 3"s – joining three tracks by three men. The first is a pair by the pair of Hector Cuvelier & Emile De Potter, entitled "Rance" and "Garden City". Wasting none of its eight minutes, the former begins promptly mid-wall, stretching throughout the channels many spiky layers thatched by curvaceous bursts of noise; this construction fails as soon as it is settled, with the wall whitening through maximal doses of white noise, furious guitar work and samples. From the death tone of this sonic suicide follows the latter track, at 5 and 1/2 minutes seemingly interpreted as a call for greater density and therefore greater brutality: the suffocation of this wall noise allows few cracks through which to view behind, and the sound's forward-movement pushes the ear back from so much debris.
Bellerue's contribution, entitled "at Freak's End", is a brilliant piece of long-form noise, classically-wielded against a sampled string quartet to reveal the hot contrast between resonant, stringed bodies and lightning bolts of feedback wrenched out of vicious amplifiers. With terrifying range, Bellerue exhausts the possible combinations of shape and frequency of this single, albeit refracting beam of noise. Grey-white noise, near silence, feedback punches, mind-splitting pure tones are all present, often for fractions of a second. The strings return, distorted, just after the midway, suggesting – or reminding – their presence all the while beneath this noise, determining this noise, failing to predict this noise to the ear. Following an odd radio sample something is purged, and the sound regulates a bit in form as spikes appear across the field to cancel out much of the dynamic and force the beam into a thin vibration to end in its 21st minute. The two little unmarked CDrs share an envelope inside a miraculous two-color screened folder.
*****************
Holidays webzine link
Redglaer – Petals & Scars (third sex, 2010)
May 23, 2010
While anticipating something ambient and blissful, what I heard instead is one of the heaviest slabs on tape I've heard in awhile. Imagine 60 minutes of sonic experimentation that pulls all your picture frames of the walls, and rattles your glass cabinets- that's "Petals and Scars".
The first side gives us tons of rumbling low end feedback accompanied higher sounds of scraping and rattlings, all of which come in and out in gracious long strands with solid moments of silence between- sometimes coming in catching you off guard with each reprise of sound. Each time, the sounds become slightly more energetic, introducing more altered sounds from the same sources.
The second side begins abruptly with a thud, into a long, heavy drone. Slow, yet dynamic, the drone is occasionally accompanied by some small amounts of high-end feedback and some sporadic clanking. Half way through, the tape ceases the low-end massage and replaces it with oscillating chirps, punches of harsh noise and feedback that turns into more-so waves of harsh noise on top of more low-end droning. For a bit, the feedback ends and rather eerie sounds like that of rusty hinges, knife sharpening and random clatter begin, all concluding with more, dense harsh sounds.
By far, this is the most charming looking tape to grace my shelf. Audibly speaking, it's- once again- one of the heaviest. I absolutely recommend this to people appreciative of sounds of a heavier nature and those interested in low-end, feedback experimentation.
*****************
Cinik's Best Split Albums of 2010 (12/31/2010)
http://ciniksbestof.blogspot.com/2011/01/best-split-albums-of-2010.html
Bob Bellerue / Father of the Flood split tape
*****************
Animal Psi link
Redglaer – 'American Masonry'
13 Mar 10
A CD reissue of the highly successful 10", 'American Masonry' is the first apex in the work of Redglaer (Bob Bellerue, also of Halfnormal, KILT). Perception fails, or is never given a chance, as deep resonance in these dronal tones arrive pre-blown, obscuring the immense size and shape of the warehouse in which these live recordings were made and to which the title nods in awed homage. As ideal case of Bellerue's micro-macro dialectic, the two tracks of the initial release synthesize two modes of noise, tectonic and rhizomic. Similar to a Pulse Emitter in object timbre and mixture of grand force with minute mechanism, the form which Redglaer casts is far more organic, pathological, and misanthropic. At 3/4s an hour, the sound of the disc breaths in the spaciousness as the author plots then executes each move methodically, releasing sorties and awaiting their return in feedback. Hardly a headphone piece, this big throw movement is easily tracked in and across both channels, with additional tonal markers flaring up here and again to emphasize the reference. In addition to longer cutsfor the two primary tracks, another 20 minutes is added to this CD version in the form of a third track: rhythmic, almost melodic, and richer in detail than the rest of the disc – and tellingly self-described as both "more human" and "mysterious" in the press materials – which sees the larger movement backgrounded while pre-literate voices babble and coo, populating the harsh space as previously mapped yet living (to the quarter-length extent they live) in what can only be qualified as terror among the slashing ceilings and trembling foundation. Pro-cut CD comes color screened in a chipboard sleeve with beautiful, black foil embossing.
*****************
Animal Psi link
Bob Bellerue and Jarrett Silberman – 'Amplified Piano Duets'
25 Jan 10
Bound by clique and culture to the state of Noise, Bob Bellerue (Redglaer, Kilt, Anarchymoon boss) and Jarrett Silberman (Young People, Skull Skull) cross well into the neighboring sovereignty of "experimental" with their 'Amplified Piano Duets'. Reminiscent of the austerity found in works of no-input mixer, these piano-fed sounds strike a familiar harsh mix of monophonic mass and amphetamine frequency, vitally restricted only by the limits of the instrument; the use of piano is in all but the most important way superfluous. Vacant electrical murmur not just fills but becomes the sonic space, the ground against which these wrenched generations are figured. Mechanical, over-heated and over-fueled, the sounds constantly reflect on the theme – the acoustic grandeur of piano aggressively distorted through electronic amplification – as when a resonant whole becomes a silted storm of gray noise or the gentle rubbing of strings becomes anabolic honks like the chatter of cellular phones. Tragically-unetched, this one-sided 12" comes paired with a CDr of the complete session (recorded live at Il Corral, late 2006), broken down into three pieces which are otherwise dissected and reassembled for the vinyl, effectively producing a fourth track. In comparing the two, the vinyl is more of an appropriation, as the Noisier, more dynamic fluctuations of each bout in the CDr sessions are normalized into the smoother, schematic presentation of the edit. Between these two poles, we witness the struggle of sound versus design, not only in the act of conception with all its performative limitations and emergent horizons, but on into editorial post-production and addressing the envelope of this document. Both discs come in a heavy sleeve with underwhelming paste-on Xerox art. Edition of 200.
*****************
Heathen Harvest link
Redglaer - American Masonry
August 1, 2008 by Bryan Babylon
Though Redglaer hails from Portland, (a city with one of the healthiest experimental music scenes in the United States) this album "American Masonry" was recorded in Tulsa OK. What can Tulsa possibly offer that can not be found in Portland you might ask? A warehouse with a million square feet of empty space to record in. I asked Bob Bellerue about tis space, and this is what he told me:
"For me the appealing thing was based in the fact that I could be as abusive as I wanted in the recording environment and it didn't hurt anybody's ears..... It became musicalized from the natural reverb. I've never cared for reverb as an effect but natural reverb as an exquisite thing to combine with harsh noise. Electronic effects have nothing to add for me, though I still try to find them since it is easier than finding another million-sq-ft warehouse and a giant PA and several hours to fuck around."
The results of this recording turned out to be a nice testament to the quiet power of empty spaces. I have to wonder if the title of this album "American Masonry" has something to do with the warehouse. Perhaps it stores products for a company called American Masonry, or has a sign that say American Masonry. I like this idea better than thinking this album has something to do with American Freemasonry!
"American Masonry" is takes place in three tracks averaging fifteen to twenty minutes each. I liked the first track the best. It sounds the way the soundtrack for Frank Herbert's "Dune" should have. Colossal sand tides of electronic feedback and static. I imagine the floor of Matthew's Warehouse pulsed and churned like the desserts of Arrakis when the worms are coming. You hear the sounds of the interstellar winds during space travel. This track is the sound of mathematical distances charting black holes. It swallows all light, but somehow sound passes through. The second track utilizes the same types of sounds but to me had a distinctly different fell. This was probably not Bob Bellerue's intention, but track two totally reminds me of traditional African tribal music. I kept picking up on vague rhythms that don't fit into western or eastern time signatures. I imagined I could hear the wailing of simple double reed pipes, and the beat and drone of ritual percussion accompanying a tribal choir. Once again there is also the feeling of vast distances and time. But here it is the sands of the Sahara, the central African grasslands, the dark heart of the Congo. I hear stormclouds rolling over the veldt. The quiet prehistoric thunder of a herd of elephants. I don't know what it was that made this African to me, but try as I might I cant see it any other way.
The third track of "American Masonry" is the longest, but to me it had the least to say. Not that it is bad, it just didn't conjure up such crystal clear images in my head. Track three has an overwhelming feel of doom to it. This is a scared and angry crowd waiting for something to happen. This is the sound after a car accident when everyone is crying or screaming and all the crickets have stopped chirping. It builds and builds, but we aren't allowed the climax. Nothing ever happens for the crowd of people. The police never arrive at the accident.
I liked "American Masonry". Redglaer has quite a few other recordings available through Anarchy Moon that should be checked out. Also watch for Redglaer on tour this Autumn!
*****************
Foxy Digitalis link
Bob Bellerue and Jarret Silberman "Amplified Piano Duets" LP
Like many power electronics and PE adventures, Bellerue and Silberman's "Amplified Piano Duets" offers a cluster of gonzo feedback growls, creaks, shocks, stings, and pugilistic microtonal knockouts, as well as employing silence or near-silence to their advantage. The one-sided LP is rich with sustained moments of well-constructed white light drones and thrum, expertly cut and arranged between controlled sizzle, ambient room sounds and cascading crackles, concocting a highly listenable "noise" record. In fact, the loose use of the term "power electronics" may be a misnomer, but I use it here not arbitrarily, but as a generalized critical genre for introductory purposes. So to make myself clear, when you buy this sweet little album, don't expect anything along the lines of Whitehouse or The New Blockaders.
On "Amplified Piano Duets," I never get the feeling that these two are merely lobbing lawn darts into melody, but rather focus on the relationships of sounds both similar and dissimilar. I wish there were liner notes detailing their process, but alas there aren't. I'm at a loss as to exactly how these two gentlemen arrive from piano to the pleasant cacophony they create. Voice Crack comes to mind as a good touchstone of influences, but I only make that comparison due to the end product (not the process). Bellerue and Silberman have a knack for impromptu composition, a trait which positively highlights the sounds they produce, and though I'm almost certain these are improvisations (one can never be too sure, the record has a concrete compositional feel, with sounds merging and colliding in such a way as to keep the primarily atavistic, atonal barrage moving while simultaneously cleaving tonal relationships asunder. Hats off to the musicians for understanding how restraint makes possible the curious fluidity of the recording. Very nice job. 9/10 -- P. Somniferum (2 December, 2009)
*****************
The Wire November 2009 "Outer Limits" by Jim Haynes
Bob Bellerue & Jarrett Silberman "Amplified Piano Duets" Anarchymoon Recordings CD
Amplified, fuck yeah! Piano, not so sure about that. Los Angeles guttural Noisemongers Bob Bellerue and Jarrett Silberman could be using any source material to plus into their web of distortion boxes and/or Max/MSP patches. But there's much more to be said about their post-piano or post-whatever cacophony. These duets are dominated by sustained growls, as if a rabid lawnmower is hacking away at your ears, and are sunken by slabs of leaden Noise. The second track on the CD gives away some of the piano's internal workings, with an E-bow set against the strings and rough vibration from an ill-tempered motor. All these sounds are thrust through their Noise-making processes to dynamic effect. ((( ah too bad writers can't be there when you were born. he'd see there was no Max/MSP, no E-bows, only pianos and a minimum of electronics.... but thanks to Jim anyways for a great capital-Noise-worthy review)))
*****************
Foxy Digitalis link
Redglaer "American Masonry" Anarchymoon
This one has been kicking around for a while, but having it arrive once again from my pals at Foxy D gave me a fine reason to revisit it. I'm really glad I did. American Masonry is a perfect recording for this ugly, wet, gray day. Many of Bob Bellerue's projects take on a narrative of sort for me when I hear them. I'm not sure if it's necessarily intentional, or if he really means to imply the specific things I hear, but he tends to employ a focus that gives a sense that he has a clear idea of where he's going and how he's going to get there. American Masonry might be the best example of this tendency. The first track conjures the sights and sounds of a massive thunderstorm. The sky gets dark, the rain starts, and in comes these pummeling, low-end synth sounds that just unleash a hellish, windswept downpour. The storm dissipates almost as quickly as it rolled in, leaving this empty, soaked landscape. I can almost smell that post thunderstorm odor as track one comes to a close. Track two is a bit more of a mellow affair, leaving behind some of the bombastic sounds to create more atmosphere than anything. This one is built on similar, reverb-laden, low-end synth drones, but brings in some feedback, high-pitched tones, and what might be some vocals. It creates more of a depiction of some psychological state that hovers somewhere between being awake and drifting into some dark dream state. Part three picks up where the second ends, taking you deeper into nightmarish netherworld – not that jarring, wake-up sort, but the kind where everything seems to be a bit off and getting worse by the minute. As the synth sounds slowly build to this incredible, distorted dirge, weird voices emerge and recede, organic metal sounds rise and fall, but in the end, all that's left is an emptiness that sounds a lot like my tinnitus. Overall, this is a pretty incredible recording. Bellerue maintains an impressive control over the chaos he creates, balancing these intense, overdriven, claustrophobic moments with vast, empty soundscapes. There is always a sense of space, yet no indication of where that space is, how you got there, or how to get out. 9/10 - Joe Beres (June 10, 2009)
*****************
Foxy Digitalis link
Telecult Powers and Bob Bellerue "Baked in the Kitchen"
Baked Tapes c46
"Baked in the Kitchen" is a collaborative effort from New York experimentalists Telecult Powers and Bob Bellerue. Recorded on a November night in 2008, this tape pulls from that setting and emits a duo of dreary, side-long drone sprawls.
Predominantly featuring use of electronics and feedback, "Baked in the Kitchen" is cold yet radiant. The extraterrestrial glimmers of side A are met with gurgling, low-end clatter, while scrapes of synth spike upwards through the mix. Crunching and rattling, the analog sounds are like memories of long-abandoned industrial blocks-- ghosts emerging from long obsolete machinery. The deep drones of side B take on a far more ominous feel than its side A counterpart. It hums like endlessly spinning cogs of a celestial machine adrift in the pitch black space. Jagged chunks of delay and distortion fit together likes pieces of a jigsaw, moving en masse with no particular destination. Telecult Powers and Bellerue work together seamlessly in crafting these excursions, making interesting, subtle movements and never overwhelming.
This is the second straight Baked Tapes release I have reviewed and I am again impressed. The efforts of Telecult Powers and Bob Bellerue have resulted in another slice of Baked Tapes drone that deserves to spend time in the tape deck. Turn out the lights and pop it in at 3 AM. Getting baked in the kitchen beforehand is optional. 8/10 -- Robert Oberlander (20 May, 2009)
*****************
Tabs Out webzine April 26, 2009
http://tabsout.blogspot.com/search/label/kilt
Kilt "Chrome Bellows" C34 (Peyote)
...Kilt, as it says on the insert, is the duo of Bob Bellerue and Raven Chacon, and they offer up some god damn solid blows on this cassette. I've heard both of their names in the past, and sampled a thing or two of Bob's Redglare project, but Kilt is a clean slate for me.
Side A has it's peaks and valleys, but all in all is a damn fine offering. Only the lengths of the sides are given on the liner notes (this side being 16:44) but I don't think that means that there is just one track on each side. Now of course it is Kilt's call, but I would say that there are three jams here. All good, but each ending before they were able to really shine. A large gap of silence in the opening had me thinking that I got a dud out of the bunch, but about 45 seconds in or so a napping helicopter-like oscillation slowly started to build up. Just as those thuds start to take hold, a high-pitched squeal rings out, acting like an alarm for an onrush of turbid electronics. For the next few minutes, nails-on-a-chalkboard mixer feedback crunches on in a seizured roar, staying just calm enough so you can make out the mosaic of clamor. After a quick break, Bellerue and Chacon take the same elements that they were working with, but give them a harsher and more focused treatment. One of them is using a harpsichord, harmonica, or a keyboard set to one of those instruments and blending it distortedly into the spastic scrunch. To be honest, I'd really of loved to have seen this track stretched out into the entire side, just to see where it went, but it too meets its end far to soon. The closer is a quick, garbled sandstorm of pedal juggling that never gets enough time to really go anywhere. Basically this side is like February 3rd, 1959 all over again.
After listening to the flip side a hand full of times I was thinking "Man, this is perfect", but calling something (especially music-related) "perfect" is kind of silly, don't you think? So I'll just say that this is a fucking amazing piece of noise! Amazing! Plus it really shows what these dudes can do when they give their work some room to breathe. The discord is oddly "musical" (I'm putting that in quotes for a reason) at times, but still mutated and jumbled for the majority of the listen. The Kilt duo play their sounds off of each other in a crazy game of keep away. Both will be blacktopping the cassette with hulking, thick hiss until one introduces a mosquito-like buzz and totally changes up the feel. The other catches up, soon following suit, only to have the first resort back to the hiss. And it's not the same series of sounds tossed back and forth, but instead an entire bag of tricks that layer each other, keeping the substance ever changing and mangling. And I'm not just saying this because I'm really high. I listened to this twice before I even started to smoke. It's really that good.
The artwork is a tad simple, but I like it. I hate looking through cassettes in distros and having no clue what something is. You know when tapes have no information to be found on them about the artist, so you ask the person selling it "What is this" and they say "Aw, man, I think that is Tu... No, it's La... Actually, I have no clue. It's good though". Well this artwork is just the opposite. KILT!!! It hits you right over the head with black printing on thick-ass silver paper. The tapes themselves are just as explicit, with Kilt screened in silver on both sides of the shell, oddly off centered. I can deal with that.
Peyote Tapes doesn't seem to have this listed on their website right now, but as soon as it goes up for sale, grab a copy! Even though side A is a little touch and go, it has it's moments, and side B takes the cake when it comes to anything I have heard recently. I'm assuming the recording was done straight into a computer or some sort of device, as the quality is top notch. If I had some sort of rating system, this would fair well. Possibly 24 out of 25 spin kicks. (MAH)
*****************
Foxy Digitalis link
Kilt "Vaya Con Nada"
Small Doses
This harmless looking 3 inch CD does more damage than one might anticipate. The first impression of this album - that is to say the first minute or two - sounds like any other mundane noise act. The white noise, however, very quickly evolves into several different ideas, from what sounds like shopping carts in an empty parking garage to duck calls with a clarinet. Believe me, it's all there.
KILT exploits the 3 inch format to the fullest, filling the full 21 minutes with their brutal sound. And although the music on the album is definitely grim and earsplitting throughout, this Brooklyn group with Bob Bellerue as the pilot, seems to pay more than just subtle attention to composition in the midst of this noise collage. The fact that the transitions between crucial moments, on the first and only track are rather abrupt, does not take away any of the spontaneity or momentum it has built up up in the first 10 or so minutes.
"Vaya Con Nada" has a handful of climatic moments when it does more than just surprise and bewilder, when the electronic and the organic sounds meddle with each other to achieve non-conventional and alien harmonies (no matter how inharmonious they actually sound, when they exit the speakers). 7/10 -- Tobias Corell (3 March, 2009)
*****************
LA Weekly August 22 2008 link to scan
Bob Bellerue at the Smell by David Cotner
...Bellerue, formerly of the performance space known as Il Corral, ground zero of the LA punk-noise scene [??], returns Ulysses-like from his many voyages. He's visiting tonight from Brooklyn.... Promised: a giant shard of metal, caressed and cajoled and made to do terrible things to you, your hearing, and your rectum, though not necessarily in that order. Rectum? He destroyed 'em! Miss the caophony (can you really comprehend the potential of abused metal?), and you just might die inside, like that guy at the end of The Postman Always Knocks Twice, or Hillary Clinton.... [no metal, bad performance, but great write up]
*****************
Heathen Harvest August 15 2008
http://www.HeathenHarvest.com/article.php?story=20080812063109807
Kilt Snow White In Hell
Kilt is something of a power trio of hard-hitting folks from the west coast free noise scene. Bob Bellerue (Anarchymoon, Redglaer), Raven Chacon and Sandor GF (of Bastardised repute) team up to deliver the goods on this colored vinyl LP. If you have any affinity whatsoever for the Wolf Eyes / American Tapes / Hair Police style of improvised electronics then look no further; these are kindred spirits to say the least. If you're looking for the type of electro-acoustic improv thats stems from the post-AMM camp, the Japanese "onkyo" scene or something you would find on the Erstwhile label then you may not be so smitten. The hand-screened covers, rubber-stamped disk labels and multiple record label release are a further testament to the contemporary American noise music propulsion from which these cats spring. In this case, you may actually score a copy of the record because there are a whopping 500 of these puppies.
" Snow White In Hell" kicks off with a high-frequency whine that is joined almost immediately by low-mid rumbling and white noise shuffling. This pretty much sets the pace for what follows for the first side. There's no shortage of squalling feedback, abrasive textures, percussive noise and tortured voice escapades. Fortunately the music never becomes an overwhelming wall of noise and comes across as three people actually playing together rather than a pissing contest amongst a noise trio. The second track is significantly shorter and has a more industrial feel to it. Really it evokes imagery like that of a clean-up crew at the site of a bombed-out building. Not that it's necessarily negative, but is evocative of such a situation in a sonic context. The third cut clocks in at just over nine minutes and is less dense texturally for the most part. Here Kilt really shine as a group of listening improvisers and not just three guys making noise for the sake of making noise. About halfway through though the sparks really start to fly like an amphetamine-riddled teenager set loose with an old stone grinder and a wheelbarrow full of steel pipes. This is pretty cathartic actually and not as annoying as it may seem by description. The finale is the best part yet with what sounds like a clarinet player with his family jewels firmly placed mercilessly within a vice grip. Sure it's noise per se; riveting and unrelenting, but never offensive nor lacking in sensitivity.
The second side rolls along in similar fashion starting with a five minute track that segues almost imperceptibly into the concluding piece of nearly eleven minutes. Young musicians interested in making noise records should especially take note of the way these guys build and resolve tension. There's a natural sloppiness at times (inherent in most improvised music), but overall Kilt seem in control of the ebbs and tides of dense noise, subtle transitions and a sense of drama that is not always easy to achieve (nor often desired, unfortunately) in this type of music. Having said that, when the music gets noisy it does so to a degree that renders your petty defense mechanisms and prescription drugs' effectiveness useless. The consistency of the way in which the music flows is impressive enough and the conclusion is actually something of a disappointment. Perhaps that's the point. If this is Snow White in hell, I pity the fate of Cinderella or that cartoon babe from Sleeping Beauty. Just don't tell my daughters about this.
Information is scarce about who did exactly what, the scenario surrounding the recording and whatnot, but that's neither here nor there. "Snow White In Hell" is a solid record that should appeal to enthusiasts of noise music and challenging improvised electronics. The sound quality is not the best I've ever heard but is of little consequence to the overall effect of this disk. Luckily Kilt is not merely a one-off project, so here's to hoping for more free noise from this trio wherever they may be living now.
*****************
Foxy Digitalis link
Various Artists "ABQ=/=LAX" 7"
Anarchymoon / SickSickSick
Great Record! This is an excellent example of doing it right and I hope it may serve as a template for further adventures from others out there (new labels and artists take notice). Aside from the amazing cover artwork by comic artist and contributor Mark Beyer and aside from the incredible music nestled in the grooves of the crystalline-clear platter; what makes this record so great is that it is a collaborative effort from 4 labels run by the artists involved. Everybody wins. The public gets the record and no one had to break their bank to get the music out there. There should be a lot more of that communal spirit and camaraderie; anyone running a label knows we just don?t make any money at this anyway, so why masochistically drive ourselves into the poorhouse trying to put out great art? I don?t mean to overstate the act of collaboration here as somehow entirely unique and groundbreaking, but you have to admit, label collaboration at this level is noticeably lacking in today?s saturated world of d.i.y. labels.
5 noise artists on one 7inch is nearly unheard of in recent years, but sevens are an excellent format for noise musicians because of the imposed time constraints of the medium. A nice noise work can reasonably take at least 5 minutes or more to build the momentum before unleashing the crux of the work, but with a seven, things are different; an artist has only a few minutes to make it count and everyone on this record does exactly that ? they each make their contribution count! Each artist delivers a sonically powerful track making this a compelling listen from start to finish. Side A opens with heavy-hitting, power-player Raven Chacon (Kilt, Black Guys, Dog Shit Taco, etc.etc. / Sicksicksick) who delivers a heavy- feedback-ripper that descends into a searing and sinister haunt. Next up is Alchemical Burn (angaym k. oss / Ohmni) who draws out manipulated electronics and feedback into a dive-bombing, ?destroy the mixer, blow the circuits? all-out assault. Riot police are called in and the whole thing is over before you know it, only a bloodied document remains for future ears. Side B opens with Redglaer (Bob Bellerue of HalfNormal / Anarchymoon Recordings) giving us a distorto-ripper of damaged tones and broken electronics. Following is legendary comic-artist and sometimes noise-musician Mark Beyer who brings a manic-clanger called Radiator Music #1, which I believe from the title, can be taken literally as a sound source. The final piece is a live track from Alan George Ledergerber (Black Guys / Hype Machine) and is a subdued, glitched-soundscape of manipulated electronics. Overall, a great release. Get one now! It?s limited to 550 copies. 8/10 -- Todd Brooks (18 March, 2008)
*****************
Musique Machine link to review
Zelphabet 'Vol B" CD
...Lastly we have Bob Bellerue track Fridge Tower which again feels quite primal and strange like the snoozing state of some huge ageing technology beast.There's some nice smaller tone details like wire windings, wind blowing and spoon in cup stirring moving back and forth through the tracks central growing more and more noisy buzzing slumber...
*****************
Introspect link
Zelphabet 'Vol B' CD
...The last piece is by Bob Bellerue, who is also behind the excellent Redglaer. 'Fridge Tower' is a swarming mass of wriggling electronic frequencies that builds into fairly dense peaks without ever approaching harshness, all sorts of tactile surfaces building into a fairly tonal finale...
*****************
Vital Weekly 600 http://www.vitalweekly.net
REDGLAER - AMERICAN MASONRY (CD by Anarchymoon)
The solo project of one Bob Bellerue, this new CD contains a live recording made in Tulsa in 2006. The title of this recording is chosen well, it sounds like somebody who knows his craft, and builds sonic walls for his after-work pleasure. The music takes place at the crossing between drone music, dark ambient and the occasional noise, but stays abstract enough to neither annoy or grab attention. At some moments vocals come to the fore, especially in the third, final, and best track, which for a short moment sounds like an extended buddhist chant overlayered with, I assume, Redglaer's own wordless incantations ending in some rather nice stormy weather. (RM)
*****************
outer space gamelan :: http://outerspacegamelan.blogspot.com/2007/09/various-artists-powerfield-kilt-snow.html
Various Artists - Power/Field / Kilt - Snow White in Hell / Redglaer - Aneleutheromania (Anarchymoon 2xCD-R/LP/CS)
[power/field cover image] Grab bag of fairly new Anarchymoon trans-missives on mixed format...in case you need help decoding, the compilation is the 2xCD-R, the Kilt is the LP and label proprietor Redglaer aka Bob Bellerue lays claim to the tape. Anyway you probably remember Anarchy Moon (or "anokmoon") from the bang-up job they did with that Dead Machines/John Wiese/Damion Romero set not too long ago, and ideally even the Roman Torment/Feed the Dragon 12" splt and the Redglaer 10" because those were worth a look too. Bob's back in a big way with these three and more, a Smegma LP compiling disparate 7" tracks (!) and a five-way split 7" with Raven Chacon, Redglaer, Alchemical Burn, AGL, and Mark Beyer. For now though, let's focus on eating what's on our plate, starting with the compilation
According to the bit of info included on the "Power/Field" xerox, all 23 tracks across these two discs were "performed and recorded live on-site somewhere, outside of the studio and the stage", hence the title in large part I do imagine. The first disc is a pretty even split between power and field, with certain artists devoting themselves to the former (most of these found towards the front of the disc, it seems) and others to the latter. I have to say I'm more a fan of the field recordings - \\\'s "Vive Le Rock" sounds great for what could be a bunch of rocks (geddit?) bouncing around inside an aluminium bowl like metal kernels popping, while William C. Harrington's "LAX 9/17/06" and Christopher Fleeger's "Sea Gulls at Lake Ella" sound exactly like what the titles say they are, and all the better for it. The sinister gnaw of Chronicles of Lemur Mutation's "Cattle Gate" and David Kwan's "Howl" find their power in understated recordings from out in the backwoods of the planet and are a perfect oasis peppered between noisier jaunts like Phroq's static/glitch "Glass Building II" and No John's all-out noise attack "Nieuwpoort 2006". If the previous tracks hinted at some kind of "noise" inflection, he's the first to say what we were all thinking, and it marks a definite seachange for the rest of the disc. Jeff Gburk roars out of the gate with a sinus-blowing drone that whittles its way down to nervous static through distorted radio frequencies within its 8 minute running time and Infiltration Lab goes the opposite direction, starting from nothing and working up an impressive boiler room lurking pitch that'll take your fingernails clean off. From there though, the tracks get slightly faceless - tracks by Oubliette, David Kendall, sheaMgauer and Gen 26 all focus on electronically-generated rackets and drones with a low degree of memorability about them. Only Stephen Cornford's simple yet elegant "Air Con Quartet" (which I doubt is really what it claims to be but who the hell knows) sticks in the grey matter with its dull, wavering hums, but then again it does have almost ten minutes to get its point across.
The rest of the lengthy pieces are given over to the second disc, and there are six to speak of - one each from IDX1274, Dave Phillips, Ecomorti, Burial Hex, Nova-sak and Bellerue's Redglaer, all at least 11 minutes in length. Similar to disc one, these tracks waver in between the "field" and the "power" but you really wouldn't know it judging from IDX1274's hulking opener "Field of Waist High Grass (II)" which doesn't really sound like a field of waist high grass at all unless it has come to life and is attempting to swallow you whole. IDX1274's M.O. is that he doesn't use any keyboards or samplers and everything you hear is hand-manipulated from original ("clean") sources. Hard to pick out anything clean from this slobbering mess, but that's really more a compliment to IDX's knack for obfuscation. And it certainly sounds cut up and re-stitched too, but I think he's telling the truth. I think I'm more a fan of the methods than the results, but that's just me being a pussy more than anything. Nova-sak's "Field Power" (hm) is of a similar vein, this one sounding altogether more spacey and with some dropped-out moments but still noise-rooted and birthed from decidedly non-nature-al equipment. Burial Hex's "Reaping the Keep (Outsider Version)" has me on the fence, like a ten-minute slice of greyish blur spitfires, storm activity, darkened skies over vast farmlands, and shoot it even starts with a cowbell...I'd probably enjoyed a more slimmed down version of all this electrolysis, this one just seems to ramble. Ecomorti's "amaz on p inkele PHANT s eal for the Xtinct" uses the sounds of two endangered species' (I'll let you piece together which) in an off-kilter hum that's still more of the field, but doesn't quite sustain itself over its alotted running time. Curious I should say that because Dave Phillips' fantastically titled "Most Adults Are Atrophied Children Whose Fire Has Long Since Been Extinguished" (a phrase lifted from William Bennett's blog, sez Google) almost befalls the same fate but has a certain je ne sais quoi going for it that just sweeps me up in its ghost limbs like a princess. What it is, is an absolute slow burner of married high-pitched whine and pond sounds; ducks, loons, crickets, the like. Its only build up is the last two minutes when the drone fades out entirely, with the soothing sounds of waterfall and a duck to take it home. Beautiful! And it's as close to new age as you're ever gonna get from the Schimpfluch group so just take it. Redglaer closes off the proceedings with an awesome pieces that combines the best of both worlds, taking a full six minutes to slowly start to churn and transform into a static-speckled acid-burned noise jam with just thee most glorious oscillations that, at this point, sound more like heaven than anything Yod himself plunked onto the globe. Guess when it's your compilation, you gotta step up your game? Challenge met!
Sequencing questions on disc one and general - let's face it, inevitable - inconsistencies aside (and that's just my own personal take, maybe you'll dig how it is just fine), this one was definitely worth the two years of work that went into it. Painfully limited to 200 copies and housed in one of those sexy cardboard tuck-in sleeves, it's too bad more people won't get to enjoy it. But as of today there's still hope for Y-O-U.
[KILT cover image] Bellerue's also got a stake in this one, the debut full-length from his Kilt project what also features Raven Chacon and Sandor Finta. When I first got it and had no idea what it was, I confess to hoping it was a Scottish noise (or, going by the cover alone, black metal) band making a play on using the word "killed" as a band name, but some things aren't meant to be. I'll settle for what I got, and what I got ain't so bad either. "Snow White in Hell" is two long sides of noise demolish that purports to have actual track times and seperations but I'll be fucked if I can hear any of it, it's pretty tough to distinguish from all the general wreckage taking place. Sounds like all three have their hands in pretty deep here with overloaded circuits, junk pedals pushed to extremes, gibbering Porky Pig metallic stammers, and heavy abuse of what can only be described as a cross between a dentist's drill and a world-razing gamma laser (Light of Judgement?)...these cats are rough and raw and bringing it back to how you remember the good times circa early 90's Japanoise filth a la Incapicants or Hijokaidan. It's good to be reminded every now and then that blasts as harsh as this are still rippling through the strata. Because yes sometimes I do need to be reminded. If you do too, then get Kilt. Ahahaha, moving on.
[Redglaer "aneleutheromania" cover image] A bit of full disclosure before I get into this one(-sider): I'm predisposed to like any tape with "fuck the government and the people" stamped on the inside because well I'm a sucker like that. "Aneleutheromania" brings together a selection of live Redglaer performances in a rather brutish cover wrap, and hits all the aforementioned aspects of Bob Bellerue's noise fetishism. It veers bodaciously from tinnitus-inciting sine scrawls to guttural noise sludge and a full spectrum of oscillations in between conjuring up feelings of radio transmissions, field recordings, 80's industrialism, concrete, and more. At the "lighter" moments it sounds like a Wolf Eyes/American Tapes thing and current Whitehouse by way of Africa in the darker spots. The odd vocalized grumblings and/or shouts, generally deformed by all the electronic gnarl they'll battling through, are just the sweet touch needed to push this one from sassy to salacious...but it's got bite, believe you me. Only complain is that it's a touch long for my tastes, but so's everything else in the world so I can't fault Bob for that one. Definitely a cool smattering, but I'd recommend the "American Masonry" 10" before this one, if it's still available.
********************
smooth assailing :: http://smoothassailing.blogspot.com/ (7/28/07)
KILT "snow white in hell"
[2007, anarchymoon / bastardised]
more noise supergroup action! the formerly los angeles-based kilt is comprised of the recent portland resident bob bellerue (redglaer, halfnormal, feed the dragon, anarchymoon recordings), raven chacon (death convention, dog shit taco) and sandor finta (auto da fe, dog shit taco, andorkappen, harrasor, the abstractions, wounded head, bastardised). i've had this cd split between andorkappen and the cherry point, but didn't know who the hell andorkappen was until i got this record. i believe the other two members still reside in the la area, and i'm semi-curious to know if bellerue's relocation has affected il corral... i'm also firmly convinced that the city of portland steals everyone's good musicians. luckily for me, portland isn't very far away.
you know how when you play a record, even without speakers, you can faintly hear the music? well, the screeee emanating from my turntable as i was ripping this was damn impressive. it's even more impressive now that i'm actually listening to it. snow white in hell is the kind of noise record that dares, nay, double dares you to listen to it with headphones on. i'm not that crazy. this shit is brutal and made even more interesting by being (generally) baseless and not relying on the shrill / dense dynamics which have become commonplace. what's really going to get you during this lp are the high-pitched squeals and feedback, prevalent throughout, but the more scaled down works, tracks two and four, that's where we get the full force. piercing feedback in all its glory with nary a shred of rumble to cloak itself with. as much as i dig that, i'd have to say that the album's other three tracks are really kilt's money-makers. can i say money-makers? it's with these that the trio incorporates a broader range of sounds (all noisy!) and flesh things out while still managing to avoid coming off as retreads. i definitely recommend checking out this record, but remember, please listen responsibly.
***************************
Bull Tongue :: arthurmag.com (not sure if this will be published in the upcoming Arthur ie the phoenix rising July 07 issue)
Los Angeles label Anarchy Moon [anarchymoon.com] scored big a while back with the Redglaer [myspace.com/redglaer] American Masonry 10?, which was a wicked ride through high force audio death wind. The label has a local connection to Il Corral [ilcorral.net], a venue catering to the most extreme forms of L.A. sput and has released a somewhat mouth-watering double LP documenting the night of Friday the 13th January 2006 there. The acts are powerbook sound jammer John Weise [home.earthlink.net/~johnwiese/], electronic junk and spirit head duo Dead Machines (John Olson of Wolf Eyes and Tovah O'Rourke Olson) [myspace.com/tovaholson], low end cement-mix slabber Damion Romero [poweracoustics.org/discography/] and a collaboration of all three – each to a side. Each joint gives you a real time glimpse into each of these people's noise emission world and anyone familiar with their catalogues may think it's certainly not their most killer takes. The interesting thing though, and this holds true for the genre in which they're active, is that the process of reaching for personal epiphany is as rewarding as hearing an artist's chosen best effort. Weise spends time with comparatively quiet stations, Dead Machines deal with a more fractured pace than is expected, and Romero really just sits on a deadzone of drone, although three-quarters of the way through his piece starts to glow in a subtly remarkable fashion. The get together on side 4 comes across as any jam out in any one of these budz basements and therein lies its charm. All these cats have stronger sides out there, but these performances are the sound of them in true experimental style, seeking, prodding, checking in and checking out and back again – everything that makes this scene so goddamned great in the first place.
Also on Anarchy Moon is the split LP betwixt Roman Torment and Feed The Dragon. Roman Torment's side is as good a place as any to hear the current state of American power electronic harshness. Not a full rectal blare nor a squiggle fest these boys, Jeff Witscher (Impregnable, Deep Jew) and Evan Pacewicz (Moth Drakula [swamplandnoise.com/mothd.htm]) ride the flaring noise gush in an almost compositional style taking the listener through a harsh yet meditative drive. Feed The Dragon is another nom de plume, like aforementioned Redglaer, of Bob Bellerue [halfnormal.com], a Naropa Institute graduate and a man who has spent jugs of time exploring, thinking and creating all sorts of transmissions of noise humanism. His side is typically jake and another cog in this cat's excellent life.
[NOTE: Albert Ortega was somehow overlooked in the Bull Tongue review of Feed the Dragon. apologies to him. rockstars - you can't trust anyone!!]
*****************
"And the rockets Redglaer [sic], sound-bombs bursting in air…"
Gapers Block - link
By Chris Sienko
Bob Bellerue's week beats, if not your year, at least your month. Based in Los Angeles, this noise performer/installation artist/theatre designer/curator/writer has his fingers in enough pies to open a very unhygienic bakery, and the only thing it seems he hasn't done since 1999 is rest. You may know him as Halfnormal (releases on Banned Production, Iatrogenesis, and his own Anarchymoon Recordings), but he's got a heaping helping of other projects, sporting colorful names like Feed the Dragon, Vegan Murderers, and The Meteor Headed for Us.
On Friday, February 10, he performs at Wicker Park performance space Enemy (1550 N. Milwaukee Ave, 9 p.m., $5 suggested donation) as Redglaer, a project based around large, cascading whorls of textural sound, or as his catalog copy poetically puts it, "ions seduced by sunspots." Readers of The Wire may have caught the favorable review of the new Redglaer 10" in the December issue, in the section fittingly titled "Size Matters" (it's a 10", geddit?).

Phalanxing the Bellerue tore-up de force will be four Chicago mainstays in three groupings. Vadim Sprikut, regarded for his quiet and careful electroacoustic improvisations, here tears up the floorboards as Shattered Hymen, a digital noise project guaranteed to chop your frontal lobes into ones and zeros. Jason Soliday, curator of Enemy and collaborator par excellence (anyone here remember Gunshop?) invokes his patented brand of smoldering mad-scientist electronic juju. This is his first solo gig in quite some time. Opening will be Burrow, a collaborative endeavor between Blake Edwards (Vertonen) and Bryan Tholl (Is). Sources say Burrow are really working the "unchanging walls of humongous noise" school (think Incapacitants, The Rita, Blod) in new and surprising ways. Earplugs just short of mandatory; attendance is far beyond the realm of excuses about the cold weather.
*****************
Outer Space Gamelan :: outerspacegamelan.blogspot.com
Redglaer - American Masonry (Anarchy Moon 10") / Roman Torment/Feed the Dragon - Split (Anarchy Moon LP)
As promised, the final two installations from this current chunk of waxes from Bob Bellerue's Anarchy Moon label. The first is a stab from the man himself under the Redglaer moniker and the other is a split between a couple of American noise groups, Roman Torment (Jeff Witscher and Evan Pacewicz) and Feed the Dragon (Bellerue along with Albert Ortega). Like the "Friday the 13th" double, the packaging on both of these is quite a treat. The 10" is in a cardboard cover with painted-on cover and glued-on back photo w/glossy insert while the 12" has front and back pastings of images varying in degrees of horror with another beauty insert. The former is limited to 330 copies, the latter to 300. You can see hot pix on the Anarchy Moon website if you so desire.
Never heard Redglaer (or any of Bellerue's work) before but I see I've been missing out like a sap. Apparently "American Masonry" was recorded in an enormous large warehouse in Tulsa with Bellerue using the structure's natural resonances to bolster whatever kind of damage he's applying. What you end up with is a great slab of computer- (?) generated/cement-slapped spectral waft, a dark grey cloud of fear and tension locked in a holding head somewhere above your head. Celestial and terrestrial. Organic and orgasmic. Slanted and en...nevermind. The flip is an angrier whack of synth- (??) induced squalor, careeneing back and forth from the right side of the brain to the left. Gently washes away only to roar back for a screaming finale. Excellently executed spaced, outer-reaching drone. No clue what Bellerue's implements are aside from the building and maybe it's better that way. Judge the results and not the methods, right? Well the results are quite tremendous. For the turntable-unable you can also get "American Masonry" on CD but I'm sure it won't sound this good.
Last I heard from the Roman Torment duo they were ripping it up on the Troniks CD "Skin Game" with a record due on Hospital Productions. Not sure if that ever surfaced but they're keeping up appearances here with a side-long blasterpiece dubbed "The Gift of Grief". Total non-stop in-the-red wall of high-wired electronics geared to explode synapses. Witscher and Pacewicz keep all hands/feet/whatevers to the metal for the full twentyish minutes and spew out a dizzying juggernaut of blindingly fast, brutal, and surely harsh flat-out fucking noise. Totally worth the possibility of getting evicted over. Buckle up or down as you see fit.
Feed the Dragon's side "Bromide Romance" is a mixed bag of junky electronics, UFO-transmitted soundwaves, buzzing matrices, robotic splurge and a whole lot else strewn methodically throughout the slow-evolving piece. Bit of a baffler and not too much to say but it's well done and engaging and that's all you need to know. If this helps, Anarchy Moon sez: "narcotic ritual. the history of desperate ages and the final moments of delivery into chaos / nothingness, scorpions erupting from cactii. who will be left to laugh about the death of civilization???". Did it help? I thought it would. I think the label website also offers some MP3 downloads so get on that huh?
Considering these and upcoming cuts (a couple of heavy noise 2x7"s, new Il Corral 2006 2xCD-R, Yellow Swans 12", etc) it looks like you can safely add Anarchy Moon to the ever-growing list of quality labels serving up slick and slimey doses of new noise. Good for music, no good for your wallet...you know how it is.
*****************
The Wire "Size Matters" (Dec 06)
Redglaer "American Masonry" 10"
Redglaer is Bob Bellerue's experiment in harsh textural environments, and he finds himself a dandy of a harsh one inside a huge concrete warehouse in Tulsa. American Masonry is the celebration of the space's acoustics. Filling the booming structure with dark rumbles, antic squeedles and sheer blather, Bellerue fully engages the cavernous sonics, creating chittering walls of echoed overtones and hints of eternal combustion. He roars through the space like a giant robot, spluttering sparks and evil intent all the way.
*****************
Just For The Day (10/26/05) http://justforaday.blogspot.com/2005/10/clear-as-glass.html
clear as glass
Last month's west coast tour brought a couple a good surprises, mainly a sweet time in LA. Outside of walking the avenue of stars and relaxing in La Brea Tar Pits our show was at the amazing and overly welcoming Il Corral, a multi-room warehouse/art venue in the Hollywood area that seems to present a non-stop wallop of ace performances. The place is run by Bob Bellerue, who I wasn't familiar with until setting up the show. After we played and were heading out he passed on his Threat Level Charlie CD to me, which is "music for glass, metal, space(s), programming, electronics, body and power."
Waverly and wasp-like, Bellerue's bowing of the elements is ambient as two-eyes full of sand yet holds an utterly elegant gaze during the four pieces, all recorded in Barcelona + California, 2002. Using a contact mic and microphones slipped inside PVC pipes, the waves shift from bassy, echo laden rumble to quivering sinewaves. Like the best Keith Rowe injections, Bellerue also plunges into the airwaves. As he explains: "Radio is tapped as a chthonic noise source, and as processing stage and path for feedback via transmitter. Broadband noise is generated from public and private ambient recordings, and speeches by George W. Bush and Osama bin Laden are shredded together."
A bunch of Bob's past work is detailed with streaming MP3s at his site: some recent power noise/feedback (OROBOROS) and mind-heavy n' amped gong works (Gong Listrik). Enough to keep you listening all weekend. (Eric - anyone know anything about this site?)
*****************
LA TIMES (January 15, 2003) scan of original
Art fest breaks sound barriers: Musicians defy convention with digitally inspired material at Cal Arts showcase of all things experimental. (by Josef Woodard)
If there was a recurring motif at last weekend's CEAIT (Center for Experiments in Art, Information and Technology) festival at Cal Arts, it had to be the illuminated, compromised apple on the many Macintosh laptops on hand, a tool of choice for many of today's experimental musicians.
And, because tools and conventions are made to be broken in the experimental scene, we could have expected the presence of a rebel like the artist known as Bob Bellerue/halfnormal.
Roving around Roy O. Disney Hall, Bellerue/halfnormal manipulated his laptop in strange ways for his piece "out of the box," using only its tiny microphone to produce maelstroms of distorted and feedback-smothered sound.
At one point, he emphasized the transformation of a laptop into a physical instrument by using a bow on the laptop lid, to squealing effect. The end result was more guerrilla theater than inspired content, but it was the conceptual thought that counted....
*****************
LA TIMES (January 15, 2002) scan of original
Gestures Large and Small at CalArts Festival (by Josef Woodard)
... Contrasts ruled. After the loopy softness of "Rain," Bob Bellerue's "Threat Level Charlie" upped the angst as three musicians bowed pieces of plate glass, producing an aura of volatile intensity, while also illustrating the medium-specific emotional quality of sounds.
*****************
LA TIMES (Feb 25, 2002) scan of original
Contact is made with John Cage's Free Spirit (by Mark Swed)
... "Imaginary Landscape No. 5," realized by Bob Bellerue, was more curious. It is a score for making a tape out of excerpts from any 42 phonograph records using chance operations. Cage's own tape, created for a 1952 dance, used jazz recordings, and Bellerue did the same with recordings from the era. But his was not a handmade tape, rather the result of a modern computer's resources.
Bellerue poses interpretative issues. To what extent are period instruments and period practice relevant to electronic music of the '50s? This "Imaginary Landscape" realization was schizophrenic. Period recordings turned it into something that sounded like a sparkling modern collage of old jazz. Still, at a quick two minutes, it cooked. And in the best Cage tradition, it left us with questions, not answers.
*****************
Vital Weekly 618
B (CD compilation by Zelphabet)
...Bob Bellerue's piece of subdued noise is the best of the rest....
*****************
The Wire (London, Dec 06 "Size Matters")
Redglaer American Masonry
Redglaer is Bob Bellerue's experiment in harsh textural environments, and he finds himself a dandy of a harsh one inside a huge concrete warehouse in Tulsa. American Masonry is the celebration of the space's acoustics. Filling the booming structure with dark rumbles, antic squeedles and sheer blather, Bellerue fully engages the cavernous sonics, creating chittering walls of echoed overtones and hints of eternal combustion. He roars through the space like a giant robot, spluttering sparks and evil intent all the way.
*****************
Hanson Records :: hansonrecords.net (he's sold out of them, so it's no longer on his site...)
Redglaer "American Masonry"
Man... This 10 inch really blew my gord... Prolly my fave 10 inch since the PETER FONDA TRIBUTE on MASSACRE AT CENTRAL HIGH... Man... REVERB GALORE and preolly the BEST DRONE to be made in the past few years... Scraping metal drone... Will keep you OVER satisfied till the next TNB/ORGANUM collab...which we know AIN'T HAPPENIN'... SO FUCKin GRAB THIS ASAP.. HIGHEST RECCOMENDATION! All hand painted covers on THICK cardstock....
*****************
Digitalis Industries
Redglaer- "Cranky"
Redglaer is the only name in this stellar batch of SA 7"s that I don't recognize. The A side starts off with clattery junk noise. Change be tossed onto metal or maybe it was just him plugging his gear in. The electricity gets turned on and abrasive synth abuse follows. Low tones are mixed with hi-end sputtering and manic oscillators. Chugga-chugga progression similar to dudes like Door/Earth Crown; part organic, metal pipes banging, but also part synthetic. The feedback fucking never gets too intense, but always smooth enough to groove too with ever present low end rumble. Side B begins with looped mixer destruction, buzzing and chunking eventually raising the level of intensity as the tones take over. One man's struggle with feedback. Eventually he gains control again and puts it in its place. Subduing it, quieting it, until it is just the occasional feedback screech. This game of cat and mouse continues for the rest of the record. According to the internet he (Bob Bellerue) will be going on a 2 month long US tour with fellow PDX tone psycher Acre, definitely a show I'll be hitting up when it comes through Chicago.
*****************
Vital Weekly 600 http://www.vitalweekly.net
SMEGMA - THE SMELL REMAINS THE SAME (LP by Anarchymoon)
REDGLAER - AMERICAN MASONRY (CD by Anarchymoon)
Though being a constant factor in noise & free rock for as long as those genres might even exist, I can't recall ever listening to a full Smegma album apart from collaborations with Wolf Eyes or Jazkamer. This new LP, subtitled SINGLES 90-95, might therefore be the best introduction to this group that has been around for longer then I've been. Considering that this is a collection of 7" tracks it makes for quite a diverse and exciting listen, even including a relatively straightforward garage rock track with opener ≥Swamp Dick". What amazes me most here is how good they actually are as musicians. Tracks like ≥Fish Story" end up as some alien free jazz, not unlike some Art Ensemble of Chicago, and what also strikes me is the spirited use of loops, found sound and sampling. It makes the group sound in places like a musique concrète lab experiment injected with a viral disease. I wonder if their all-out approach to sampling is something from the 90s or if this has always been their sound. I will certainly need to start checking out more of them now. Better late then never.
Much less known, and much younger, is Redglaer. The solo project of one Bob Bellerue, this new CD contains a live recording made in Tulsa in 2006. The title of this recording is chosen well, it sounds like somebody who knows his craft, and builds sonic walls for his after-work pleasure. The music takes place at the crossing between drone music, dark ambient and the occasional noise, but stays abstract enough to neither annoy or grab attention. At some moments vocals come to the fore, especially in the third, final, and best track, which for a short moment sounds like an extended buddhist chant overlayered with, I assume, Redglaer's own wordless incantations ending in some rather nice stormy weather. (RM)
*****************
Bull Tongue :: arthurmag.com (not sure if this will be published in the upcoming Arthur ie the phoenix rising July 07 issue)
Los Angeles label Anarchy Moon [anarchymoon.com] scored big a while back with the Redglaer [myspace.com/redglaer] American Masonry 10?, which was a wicked ride through high force audio death wind. The label has a local connection to Il Corral [ilcorral.net], a venue catering to the most extreme forms of L.A. sput and has released a somewhat mouth-watering double LP documenting the night of Friday the 13th January 2006 there. The acts are powerbook sound jammer John Weise [home.earthlink.net/~johnwiese/], electronic junk and spirit head duo Dead Machines (John Olson of Wolf Eyes and Tovah O'Rourke Olson) [myspace.com/tovaholson], low end cement-mix slabber Damion Romero [poweracoustics.org/discography/] and a collaboration of all three – each to a side. Each joint gives you a real time glimpse into each of these people's noise emission world and anyone familiar with their catalogues may think it's certainly not their most killer takes. The interesting thing though, and this holds true for the genre in which they're active, is that the process of reaching for personal epiphany is as rewarding as hearing an artist's chosen best effort. Weise spends time with comparatively quiet stations, Dead Machines deal with a more fractured pace than is expected, and Romero really just sits on a deadzone of drone, although three-quarters of the way through his piece starts to glow in a subtly remarkable fashion. The get together on side 4 comes across as any jam out in any one of these budz basements and therein lies its charm. All these cats have stronger sides out there, but these performances are the sound of them in true experimental style, seeking, prodding, checking in and checking out and back again – everything that makes this scene so goddamned great in the first place.
Also on Anarchy Moon is the split LP betwixt Roman Torment and Feed The Dragon. Roman Torment's side is as good a place as any to hear the current state of American power electronic harshness. Not a full rectal blare nor a squiggle fest these boys, Jeff Witscher (Impregnable, Deep Jew) and Evan Pacewicz (Moth Drakula [swamplandnoise.com/mothd.htm]) ride the flaring noise gush in an almost compositional style taking the listener through a harsh yet meditative drive. Feed The Dragon is another nom de plume, like aforementioned Redglaer, of Bob Bellerue [halfnormal.com], a Naropa Institute graduate and a man who has spent jugs of time exploring, thinking and creating all sorts of transmissions of noise humanism. His side is typically jake and another cog in this cat's excellent life.
[NOTE: Albert Ortega was somehow overlooked in the Bull Tongue review of Feed the Dragon. apologies to him. rockstars - you can't trust anyone!!]
*****************
Heathen Harvest link
Redglaer "Buried With Freedom" (Amorf Sounds)
Arriving wrapped in a double sided poster this three inch CD release looks harmless enough. This charade of innocence lasts about five seconds before realisation dawns... Innocent? Harmless? Redglaer wants to damage you, your audio equipment and your relationship with the neighbours. Yup, looks like we're back in good old noise territory. At only twenty one minutes long Buried With Freedom is a relatively short beast, but the whole twenty on minutes is chock full of interesting variations on the theme of sonic destruction and sound manipulation.
There are thin scraping elements, the metal on metal sounds providing the same sensation as nails on a chalkboard, setting your teeth on edge in a wonderfully excruciating fashion. There are fat layers of mangled mid range, vocals sounds and analogue throbs chopped into each other as they stutter and slur like incoherent alcoholics, and of course there is a wealth of low frequency bass.
The bass here is a beast of many coats, from low end frequencies that attempt to pin loose clothing to you through to jerky cut ups that threaten the integrity of your speakers, and of course the low throb of the sub bass that lurks in the background, waiting for it's moment to lunge at you.
Heavy analogue effects abound, gathering the whole mass up and warping it out of shape, creating sirens and swirls of noise from the clatter or causing the whole affair to glitch and stutter as it cycles through random frequencies. There are also brief moments where it is almost silent, but these are few and far between and are, of course, only the calm before the eventual storm.
While not the harshest or most abrasive noise I've heard, this is far from being a damp squib. Rather than a complete and overwhelming wall of chaos that I'm more familiar with, Redglaer has kept the elements involved in the construction of this piece to a minimum and used them to weave a heavily textured and varied piece of seemingly unstructured noise, which is just what the doctor ordered. Over all this is an interesting piece of work that despite its relatively short run time never fails to deliver the goods and is thought provoking and varied throughout.
*****************
Outer Space Gamelan :: outerspacegamelan.blogspot.com
Redglaer - American Masonry (Anarchy Moon 10") / Roman Torment/Feed the Dragon - Split (Anarchy Moon LP)
As promised, the final two installations from this current chunk of waxes from Bob Bellerue's Anarchy Moon label. The first is a stab from the man himself under the Redglaer moniker and the other is a split between a couple of American noise groups, Roman Torment (Jeff Witscher and Evan Pacewicz) and Feed the Dragon (Bellerue along with Albert Ortega). Like the "Friday the 13th" double, the packaging on both of these is quite a treat. The 10" is in a cardboard cover with painted-on cover and glued-on back photo w/glossy insert while the 12" has front and back pastings of images varying in degrees of horror with another beauty insert. The former is limited to 330 copies, the latter to 300. You can see hot pix on the Anarchy Moon website if you so desire.
Never heard Redglaer (or any of Bellerue's work) before but I see I've been missing out like a sap. Apparently "American Masonry" was recorded in an enormous large warehouse in Tulsa with Bellerue using the structure's natural resonances to bolster whatever kind of damage he's applying. What you end up with is a great slab of computer- (?) generated/cement-slapped spectral waft, a dark grey cloud of fear and tension locked in a holding head somewhere above your head. Celestial and terrestrial. Organic and orgasmic. Slanted and en...nevermind. The flip is an angrier whack of synth- (??) induced squalor, careeneing back and forth from the right side of the brain to the left. Gently washes away only to roar back for a screaming finale. Excellently executed spaced, outer-reaching drone. No clue what Bellerue's implements are aside from the building and maybe it's better that way. Judge the results and not the methods, right? Well the results are quite tremendous. For the turntable-unable you can also get "American Masonry" on CD but I'm sure it won't sound this good.
Last I heard from the Roman Torment duo they were ripping it up on the Troniks CD "Skin Game" with a record due on Hospital Productions. Not sure if that ever surfaced but they're keeping up appearances here with a side-long blasterpiece dubbed "The Gift of Grief". Total non-stop in-the-red wall of high-wired electronics geared to explode synapses. Witscher and Pacewicz keep all hands/feet/whatevers to the metal for the full twentyish minutes and spew out a dizzying juggernaut of blindingly fast, brutal, and surely harsh flat-out fucking noise. Totally worth the possibility of getting evicted over. Buckle up or down as you see fit.
Feed the Dragon's side "Bromide Romance" is a mixed bag of junky electronics, UFO-transmitted soundwaves, buzzing matrices, robotic splurge and a whole lot else strewn methodically throughout the slow-evolving piece. Bit of a baffler and not too much to say but it's well done and engaging and that's all you need to know. If this helps, Anarchy Moon sez: "narcotic ritual. the history of desperate ages and the final moments of delivery into chaos / nothingness, scorpions erupting from cactii. who will be left to laugh about the death of civilization???". Did it help? I thought it would. I think the label website also offers some MP3 downloads so get on that huh?
Considering these and upcoming cuts (a couple of heavy noise 2x7"s, new Il Corral 2006 2xCD-R, Yellow Swans 12", etc) it looks like you can safely add Anarchy Moon to the ever-growing list of quality labels serving up slick and slimey doses of new noise. Good for music, no good for your wallet...you know how it is.
*****************
LA Weekly (Los Angeles, Dec 14 2006)
Turn the Screws Festival of Love and Noise at Il Corral (by David Cotner)
The budding experimentalist usually starts by thinking that he is dark and disturbed when really he is light and fruity. Practitioners who have consistently suffered the arrows of outrageous reality coalesce Friday through Sunday at racket hall Il Corral for this second annual music festival for "sonic arts sublime and depraved." With more than 40 acts, Corral's Bob Bellerue threatens to expose "people of all ages to radical creativity created with folk technology (i.e., anyone can do it if they want it bad enough)." From across America: San Francisco's blacklight noisemongers Rubber O Cement; L.A.'s Bastard Noise; AMK from Glassell Park; Aaron Dilloway, formerly of Wolf Eyes, from Michigan; Portland oscillator masturbators Pulse Emitter; Oakland performance-art guarantors Tarantism; and local combo Psicologicos Trauma (Mitchell Brown, Joseph Hammer, Loachfillet, Albert Ortega). The bill is stuffed to bursting — as you will be after the vegan "pancake noise brunch" at noon on Sunday.
*****************
LA Alternative Press (Los Angeles, June 30 2006, "Best of LA")
Night Moves: The new spirit of our night haunts. (By Lesley Bargar)
There's been a shift in the tectonic plates of our night terrain. The very foundation of our evenings is trembling from the friction of change. As the sound of it builds to a roar and the shaking settles into a tangible rhythm, we're altering our plans each night accordingly. Your votes prove it.
Up until very recently, the shape of Los Angeles' musical nightlife was primarily molded by the experienced hands of a few heavily seasoned professionals. The folks who ended up on L.A. stages every night were chosen by club bookers whose job it is to predict who and what we'll throw our love, money and lime wedges at over and over again. It was these bookers who literally "set our trends," made our scenes, and we loved the venues they worked for because of it. This is how the stages of classic L.A. venues like Spaceland, the Troubadour and other time-honored clubs are run, and many SoCal music aesthetics, genres and scenes have blossomed over the years because of it.
But nowadays, the power is drifting from the hallowed halls of these established, booker-run spaces and into the hands of a few visionaries who literally do it all themselves: own, operate and book the entertainment at smaller, independent venues. These people are Dave Conway-perhaps the newest of the bunch-who dreamed up the downtown loft/radio station/club/sporadic concert space Little Radio, and both the man and the loft swept the categories of favorite local trendsetter and best local venue, respectively. It's Jim Smith-man behind longtime downtown dive gem the Smell-who draws young crowds and younger bands to his space, making the Smell fourth in your venue votes, and the man himself came in third for trendsetter. Same goes for Bob Bellerue, whose East Hollywood concrete shack Il Corral continues to draw crowds craving the far reaches of local music, and the results seem to show we all love him for it. Twenty-three-year-old Sean Carlson organizes and curates the entire Fuck Yeah!!! Fest in Echo Park each year. Sam Lanni of Safari Sam's-while he doesn't do the booking himself-finally got to open the venue that's been haunting his dreams since the '80s, and there's not a night you won't find him wandering through the crowd and adjusting a few tables and chairs.
It's not simply a coincidence that the individuals you elected as trendsetters also own and operate the venues you chose as your favorite to frequent. It's because this new breed of venue hinges its success on the ideas and missions of the people who own and operate them, not the ones they hire to plan their marquees. Of course, there are still remarkable bookers out there, and there is, and always will be, a need for their experience within the realm of Los Angeles nightlife. But now it looks like the city's night-train is headed to a more DIY destination.
*****************
San Diego Reader (San Diego, June 8 2006, "Blurt")
Bring the Noise Project (by Jeremiah Griffey)
This weekend, former Ché Café sound engineer and booker Bob Bellerue will enter the UCSD venue for the first time in 15 years. He'll perform as Halfnormal, his L.A.-based noise project. Bellerue ran the boards from 1987 to 1991, a period during which Rage Against the Machine appeared at the Ché.
" [Back then it] was a bizarre combination of things between the whole hippie garden vibe and then the punk rock or post-punk or post-whatever music scene.... You had this amazing rock scene, which was for me the people who were in Pitchfork, Fishwife, Heavy Vegetable who have all become rock stars in their own right. Then you also had the Crash Worship element, which really turned people on their heads in the same way the Dead did, but in a more pagan, industrial way. Then, also, they had Daddy Long Leggs, which were a funk-metal-punk thing, which turned a lot of kids on to groove and rhythm."
Bellerue left San Diego after dropping out of UCSD during the "next Seattle" years, when bands such as Drive Like Jehu, Three Mile Pilot, and Rocket from the Crypt signed to major record labels. When that happened, he lost a lot of his passion for San Diego music and moved to Colorado to study poetry and Buddhism.
" I think we gave Rocket from the Crypt their first gig outside of house parties," Bellerue says. "The thing that really sticks out from that period of time was that people were just interested in doing their own thing. They knew about music that was going on in the world, but they weren't necessarily trying to make it big. They were just trying to have fun."
*****************
LA Weekly (Los Angeles, Dec 15 2005)
Turn the Screws Festival of Love and Noise at Il Corral (by David Cotner)
More stars than there are in heaven in this hellish inferno of the last free music on Earth: noise. It's the final frontier in sound that either makes you shit your pants and come simultaneously with every
forkful, or run screaming for the Teflon safety of 94.7 the Wave. Actions promised at this three-day fest: visuals from Maile Colbert and 2005 L.A. Weekly Music Award winner G.X. Jupitter-Larsen; KXLU mainstays Damion Romero and Mitchell Brown, and Germs drummer Don Bolles' Kitten Sparkles working as shock therapy for oxygen molecules. Also, car-door-abusing spazmo Tralphaz; free-improv trio Open City; composer Adam Overton arranging a quartet of nude bass players; and post-nuclear-family tales told by dancer Wanda Gala and Corral visionary/noisician Bob Bellerue in a van down by the gutter.
*****************
LA City Beat (Los Angeles, August 4 2005)
Avant-Bliss (By Oliver Hall)
One of the best concerts of the year so far happened in front of about 100 people at Il Corral (662 N. Heliotrope Dr., L.A.), Bob Bellerue's performance space at the corner of Melrose and Heliotrope, which, according to Bob, puts it in L.A.'s picturesque Koreawoodlake area. On June 17, harsh noise master Phil "Blood Maniac" Blankenship celebrated his quinceanera by reuniting the band Sissy Spacek (John Wiese, Corydon Ronnau, Jesse Jackson) for an exhilarating 10-minute grind blast from the Beatles of the genre. Dozens of hands were thrown forward in loving tribute to Ronnau's signature gesture of power and mastery as the plague tones of total brutality possessed listeners' zombie limbs, causing them to lash out against the system. Despite the physical and musical intensity, no one was hurt, and the glad breath of happy conviviality was drawn deep into every lung that had not been collapsed by Wiese's bass.
The space has also hosted, or plans to host, Cherry Point, Knives, Damion Romero, the Haters, Nels Cline, Tom Grimley, David Scott Stone, Rainbow Blanket, Obstacle Corpse – in other words, anyone who is doing anything interesting with sound in L.A. at the moment. (Wolf Eyes performed here the night before it played Coachella.) Il Corral opened last January "to provide accessible venue and rehearsal space for community art and music events, with low rental rates and a open-door policy for emerging artists," says Bellerue. Admission is cheap ($5), people treat each other kindly, and if you have any interest whatever in outsider music or avant-garde art, do yourself a favor and go. Halfnormal.com/ilcorral. (Oliver Hall)
*****************
LA City Beat (Los Angeles, June 16 2005) scan of original
Musical Meal by Rebecca Epstein
...the series welcomes three solo acts wth short and sweet sets: Bob Bellerue / halfnormal, who plays feedback and "wrangles sound like a cowboy on methamphetamines"...
*****************
Willamette Week (Portland, OR, March 30 2005) scan of original
Travellers & Locals by TD
The Dunes continues its daring commitment to some of electro-acoustic improv and noise music's more uncompromising underdogs. From LA, "poetic terrorist" Bob Bellerue (known for performances involving amplified sheets of plate glass, hacked electronics and insectile feedback)....
*****************
Eugene Weekly (Eugene, OR, March 17 2005) link to website
Unusual Instruments, Unusual Sounds (by Brett Campbell)
...On March 29, DIVA hosts a trio of out-there sound and noise artists from Los Angeles: ...Bob Bellerue, who uses feedback and other electronic and computer trickery, along with metal, bamboo, radios and other sources to produce strange soundscapes...
*****************
LAWeekly (Los Angeles, November 5-11, 2004) scan of original
Live Art Pick of the Week: Linda Albertano, Bellerue/Halfnormal, Ry Rocklen (by Ron Athey)
For the past year, Dangerous Curve gallery has been programming live art events on a monthly to biweekly basis, often in tandem with interactive installations. This weekend has a sound bend to it. Noise artist Bob Bellerue is not only loud but known for taking micro-sound vibrations through sheets of glass and playing them. As Halfnormal, Bellerue will perform "Material Spirits," vocal support attributed to a few recent commanders-in-chief. Performance veterana Linda J. Albertano will work in two mediums, first a spoken-word piece, "The Sanctity of Marriage — Nudge, Nudge," and then a trance recital on the West African harp. And with a claim to fame that includes starting the "boy-oh-boy" movement, baby on the block Ry Rocklen's act for the night is described as a "poignant one-man art band." Dangerous Curve, 1020 E. Fourth Pl., dwntwn.; Sat., Nov. 6, 8 p.m. (213) 617-8483 or www.dangerouscurve.org.
*****************
Santa Fe New Mexican (Santa Fe, NM, October 8, 2004) scan of original
Something Mayhem This Way Comes: High Mayhem Festival (by David Prince)
... But what promises to be truly amazing this year comes from Los Angeles musicians Raven Chacon, Adam Overton, and Bob Bellerue... [description of tour mates Chacon and Overton's rigs. new paragraph!] Bellerue, however, may be the strangest of them all.... [long quote from festival organizer, in which he incorrectly reports that i often play a sheet of glass with feedback to the point of breaking. close, not completely true, but hey good press is hard to come by! thanks Carlos and Max!]
*****************
New Times (Phoenix, AZ, October 7-13, 2004) scan of original
Let's Hear It for the Noise (by Erika Wurst)
[see note below for the CO Daily article]
*****************
Colorado Daily (Boulder, CO, September 26, 2003) scan of original
Pane-fully aware: Bellerue plays glass, explores reverberations of 9/11 at BMOCA (by Elizabeth Decoursey)
[Not very quotable, but a great full page plug with picture. She could have done a lot worse - she really tried to do a good job, not jaded and cynical (yet?)]
*****************
Kompas (Yogyakarta, Java, Indonesia, Sabtu, 26 Juli 2003) link someone please translate this for me
Yogyakarta Gamelan Festival VIII
Semangat Itu Masih Tetap Ada
Dari segi jumlah peserta asal luar negeri, Yogyakarta Gamelan Festival VIII, di Yogyakarta, 11-16 Juli tak semeriah festival yang sama pada tahun 1999-2000. Meskipun jumlah peserta masih tetap banyak, tetapi lebih banyak peserta yang datang dari berbagai daerah di Indonesia.
Ada kendala sosial politik yang ikut memberi warna pelaksanaan festival gamelan. Banyak peserta yang harus terhadang adanya travel warning yang dikeluarkan oleh pemerintah masing-masing, yang intinya mengimbau warganya agar untuk sementara tidak datang berkunjung ke Indonesia. Bahkan Pemerintah Amerika Serikat menunjuk Kota Yogyakarta-bersama Jakarta dan Surabaya-merupakan salah satu sarang teroris.
" Tentu itu memang bukan satu-satunya karena sifatnya juga hanya semacam imbauan. Tetapi, banyak teman-teman yang nekat nyelonong datang untuk ikut festival ini," ujar Sawung Jabo pemusik kontemporer yang ikut menjadi peserta festival itu. "Teman-teman dari Australia yang hadir ikut festival ini saya ajak melihat Indonesia. Ternyata, kan, tidak menyeramkan," ujarnya.
Pemusik Australia yang datang bersama Jabo dari Australia di antaranya adalah Kim Sanders, pakar etnomusikologi yang menguasai peralatan tiup tradisional Turki, serta grup Genggong and Wot Cross cultural Synergy. Peserta lain Bob Bellerue dan Alex Dea, keduanya dari Amerika, dan Marc Lannelongoe dari Perancis. Sedang pemusik luar yang hadir tetapi tidak ikut tampil adalah Judith Shelley, Direktur pada Australia Indonesia Arts Alliance dari Australia, Shin Nakagawa dari Kyoto University of Arts, dan Don Mamouney, Direktur Side Track Performance Grup dari Australia.
KUANTITAS peserta dari luar negeri memang lantas tidak menjadi penting-meskipun namanya festival internasional-ketika penampilan peserta menghadirkan karya-karya inovatif bukan saja dari segi penciptaan, teknik-teknik pengolahan sumber bunyi. Penampilan Bob Bellerue musikolog dari Carl Arts University, Los Angles, ini memanfaatkan jasa teknologi di dalam menggarap keseniannya. Dia meniup seruling gambuh dari Bali, kemudian ditangkap dalam olahan komputer. Suara yang muncul kemudian adalah suara elektronik yang sama sekali lain dengan seruling aslinya. Suara-suara lebih aneh lagi muncul ketika Bob berkolaborasi dengan Marc Lannelongue dari Perancis pada permainan malam berikutnya, Selasa (15/7).
Marc memainkan saron, kendang, jembe, dan perkusi lainnya. Suara ini dikeraskan oleh Bob dengan speaker driver, yaitu elemen-elemen pengeras suara yang ditempelkan pada gong besar yang sekaligus menjadi "daun" loud speaker. Suara yang keluar dari sana ditangkap oleh komputer Bob kemudian diramu menjadi sebuah bunyi gamelan yang unik, yang berbeda dengan bunyi gamelan umumnya. Garapan musik-teknologi mereka setidaknya menunjukkan bahwa festival gamelan Yogyakarta sampai kini tetap masih punya semangat.
Dari 27 grup yang tampil selama tujuh hari dalam festival gamelan Yogyakarta kali ini, garapan atau karya-karya yang mengangkat ritus-ritus tradisi sangat menonjol. Sebutlah itu seperti yang dilakukan oleh KPH3, Gobah Contemporary Music dari Riau, Kiai Kanjeng (Yogyakarta), Genggong dan Sono Seni Ensamble dari Solo, HMJ Karawitan ISI Yogyakarta.
KPH3, misalnya, yang menghadirkan hasil kolaborasi antara Alex Dea (AS) dengan dua abdi dalem Keraton Yogyakarta yang sudah sepuh Manggalagita dan Pujo. Dua abdi dalem keraton yang ahli tembang itu menyanyikan tembang-tembang mistis masing-masing dalam irama tembang pelog dan slendro. Alex Dea pun bernyanyi (nembang) di antara dua nada itu. Muncullah musik yang unik dengan aura mistis.
Contoh lain datang dari penampilan kelompok musik dari Riau, yang dari karyanya terkadang sayup-sayup tertangkap kesan munculnya suara musik garapan Kitaro. Seperti diakui oleh Rino Deza Pati yang membuat karya Olang-olang Perang sangat diilhami oleh budaya masyarakat pedalaman di Riau, yaitu masyarakat Sakai. Olang-olang artinya burung elang, perang artinya perang. Tiga repertoar yang ditampilkan grup dari Riau itu menunjukkan bahwa peta musik kontemporer tak bisa mengabaikan wilayah ini.
Komposisi In Pelog adalah karya Kolaborasi Alex Dea dan Prof Dr Sumarsam warga Indonesia yang menjadi dosen Weslayen University Amerika Serikat-yang buku terbarunya berjudul Gamelan: Cultural Interaction and Musical Development in Central Java dibedah di tengah-tengah berlangsungnya festival. Karya musik yang lebih merupakan garapan akademik ini sengaja dibuat untuk menghormati Terry Riley, penggarap komposisi terkenal dan penting dari sejarah musik avant-garde di Barat yang berjudul In C .
Teknik musik yang penting di dalamnya adalah cycling dan phasing di mana melodi atau bagian dari melodi akan diulang terus-menerus sampai muncul suasana yang tambah-menambah resonansi suara. Kalau In C memunculkan suasana kunci "C", komposisi In Pelog memunculkan suasana Pelog.
Untuk memainkan karya ini orang harus punya kemampuan karawitan klasik dan pengalaman kontemporer karena komposisi yang muncul melewati proses improvisasi yang pada puncaknya bisa mengembang sangat luas. Setiap kali permainan belum tentu sama, tetapi karena adanya kerangka kerja melodi balungan gending Onang-onang dan prinsip siklus, permainan tetap akan terus terkontrol.
Permainan kelompok musik Marusya dan Inisisri dari Jakarta, yang tampil bagus, juga menunjukkan bagaimana visi akademik memaknai gamelan. Marusya Nainggolan yang dosen IKJ dan pemain perkusi andal Inisisri mampu menunjukkan semangat gamelan yang kaya nuansa kebersamaan.
Spirit gamelan itulah yang menjadi obsesi Sapto Raharjo dan kawan-kawan sebagai penyelenggara festival tahunan ini. "Yang saya ambil adalah spirit gamelan, yaitu kebersamaan, gamelan sendiri alat yang boleh diganti apa saja. Toh, gamelan juga berkembang. Mulai gamelan tiga pada zaman Majapahit, meningkat menjadi gamelan lima, tujuh, dan sekarang bersinggungan dengan komputer, alat musik, alat elektronik, dan lainnya," kata Sapto.
Dengan pertimbangan itu pula, dalam festival itu tampil seni Islami Rodhat dari Pasuruan (Jatim). Anak-anak usia sekolah dasar (SD) baik berasal dari sanggar maupun sekolah, termasuk siswa sekolah menengah karawitan (SMKI) dan mahasiswa karawitan Institut Seni Indonesia (ISI) Yogyakarta, tampil pula dalam festival itu. Umumnya mereka tampil tak lagi berpijak dalam gamelan konvensional. Hadir pula peserta dari Medan dan Palu yang tampil di acara ini.
FESTIVAL itu juga diisi workshop oleh Kim Sanders dari Australia yang memperkenalkan alat-alat tiup tradisional dari wilayah Turki dan sekitarnya. Ditunjukkan pula sebuah alat tiup bernama Bag Pipe, terdiri dari kantong udara yang terbuat dari kulit kambing, yang dihubungkan dengan tiga alat tiup menyerupa seruling. Cara memainkannya kantong kulit ditiup agar berisi udara. Udara dari kantong ini yang ditangkap oleh benda semacam seruling itu untuk dibuat nada-nada.
Dalam workshop itu ditunjukkan pula bahwa permainan rebana di Turki dan sekitarnya memiliki hitungan yang pasti. Secara garis besar ditunjukkan bahwa pemukulan rebana terdiri dari berbagai irama 7, 9, 11, sampai 18, dengan pembagian ketukan 3-3-1, 3-2-3-3, atau 7-4-7.
Festival Gamelan Yogyakarta yang diselenggarakan secara pribadi oleh Sapto Raharjo dengan kawan-kawan, bersama Radio Geronimo-nya, akan terus diupayakan berlanjut, tidak hanya berhenti pada delapan kali saja.
" Meskipun naik-turun, tetapi kualitas festival ini masih tetap bisa dipertanggungjawabkan. Hanya orang gila seperti Sapto yang bisa menggelar festival rutin semacam ini. Banyak benturan bukan saja masalah sosial politik, tetapi juga dana. Dan, Sapto tetap tegar meski terbentur-bentur," kata Sawung Jabo. (th pudjo widijanto)
*****************
Igloo Magazine (Oct 2002, www.igloomag.com) screenshot
Bob Bellerue - Threat Level Charlie (by TJ Norris)
Out of nowhere comes a dramatically empowered recording by LA-based sound artist and performer Bob Bellerue. Using glass, metal and other electronics as the sound sources Bellerue is a physical performer with no regrets. His work here is akin to other such experimenters as Aube, Knurl and a touch of Brume. Sounds like an evil potion - but this is far from evil. Its magic recipe is in its sporadic sense of improvisation and drama. The composition is blindly organic and freeform truly made of ingredients, formulated through its base structure and all its singular elements coming together, clashing at times. There are mind numbing screetches and quieting intervals of solace. He has used broadband noise developed from speeches by George Bush and Osama bin Laden and distorted them beyond recognition into the overall final mix. Winning top honors at this year's Centre de Cultura Contemporànea de Barcelona Bellerue's sound collage of homemade instruments and noise have a big presence. The final piece is made of four interlocking tracks, clocking in at about 45 minutes, that are raw and capture a live sound. He calls it "poetic terrorism" and I call it an aural mind bomb. For fans of Nocturnal Emissions and Illusion of Safety. (TJN)
*****************
LA WEEKLY (Nov 22, 2002) scan of original
Concerts pick of the week (by David Cotner)
Beyond Music evenings ride again, as many of the bon vivants of the experimental-music community take matters into their own hands in a pulse-pounding punch to the puss of The Man! Indefatigable composer and curator Bob Bellerue (working as Halfnormal) premieres the installation "bocaFantasma" in the upstairs gallery, using surround-sound to create "sonic vacuums with personal oscillations." ...
*****************
LA WEEKLY (Slush, July 19 2002, link to online review)
by Sandra Ross
"Sound-installation artist BOB BELERUE (sp!) warmly welcomed guests into his room to listen to distortions of favorite tunes"
*****************
WILLAMETTE WEEKLY (Portland, OR, September 25, 2002)
Club Picks: Halfnormal, Eveline's Klang Quintet, Nequaquam Vacuum
Halfnormal's abstract songs scrape and burn like the meeting of tectonic plates or the slow throb of magma. Sometimes they erupt into spasms of noise. Other times
they rumble with subliminal patience, waiting for their next chance. And is that the chattering screech of some as-yet-unclassified subterranean animal burrowing in the background? Seattle's Eveline Mueller-Graf brings her scrap percussion to town, as well, probably a good complement for the clangorous Nequaquam Vacuum. (JG)
*****************
AMPERSAND &TC (Nov 2002, vol. 2002-18)
link to online review
Bob Bellerue is a performance artist who works with a range of material – the inside of the sleeve shows Liam Mooney (one of a number who work with him) manipulating a sheet of glass – but he also uses various metals, resonant tubes, radio, programming and his body to achieve his musical effects. TLC (interesting acronym as the name is actually the highest level of alert) was recorded in a studio but with excerpts from a live show.
Shimmering crackly feedback signals and a low throb build a stimulating atmosphere joined by tings and distant chopped voices. Pattering noises and a growly undercurrent together with a metal wind make way for sustained ringing and gentle tones, then shifting to a noisey scrabble, distorted voices and tones to squally feedback. A shifting electroacoustic space. The second track opens with a distorted Dubya accompanied by a squeaking balloon and deep wobble-board sound develops into scrabbling windswirls, a twittering battle and high tones. Passing from a more musical mood it drops to a rumbling pulse and soft cycles that echo and loop to an applause-like percussion. Deep woobles, twitters and harsh whoosh, a low tone and manipulated higher one – interference vibrations – crackles, tones fade.
The third track is short – edgy harsh metallic vibrations and high tones – close mike work – percussive at times, but more focussed. And this intensity carries over into the last two tracks. The fourth layers noisy held strong tones, some squeaks and scrapes. But focussed on the full tones with controlled modulation, creating a vibrant and powerful noise work with lots of interesting variations. In the final track a scrabbly burble, possibly the radio, is a base for the other components – long feedback tones, a juddery oral close-mike scrabble, noisey drills, squiggles and shimmers building the slowly fading through the noises into a whooshy finale.
The balance in the album between to more exploratory variations of the first half and the intense focus of the second provides a strong structure to the work, which is a complex mixture of live and studio performance art, conjoining engagement with sound and noise.
*****************
The Austin Chronicle "The Zine Scene" by Stuart Wade (Oct 13 1997)
http://weeklywire.com/ww/10-13-97/austin_books_feature1.html
The Book of Zines is an excellent book for the uninitiated because it is the most pop culture-oriented of the lot. The book opens with a reprint of an actual letter from the grandfather of Basurame editor Bob Bellerue. In it, the old man has obviously just been jolted alert from his Barcalounger after reading his grandson's nihilistic handiwork. "Any Flop House Toilet or Hobo Jungle can provide this type of dirt," writes the well-meaning grandsire, begging his progeny, "For Christ Sake take a look at yourself," and, "The mention concerning John Hinkley could subject you to federal questioning."